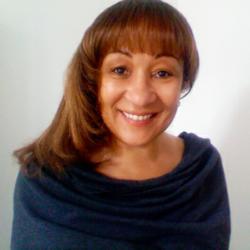 They're not druggies or lazy. They are broke. It occurred to me that UmeNow can link the general public with young talent while still maintaining our privacy strong foundation.
Pembroke Pines, FL (PRWEB) September 24, 2012
UmeNow is known as a private network that has banned all tracking and caters to people who value secure communication. It's a relatively new company, with a small but dedicated community, favored by those who want to connect with people they actually know, not hundreds of strangers linked to them on public sites. If Facebook evokes images of voyeurism, exhibitionism, or narcissistic posing, UmeNow is the antithesis. So it may come as a surprise that the company is pivoting to support creatives, inviting into its ranks a demographic some would characterize as adept at oversharing. This unexpected pivot, by a company built on encrypted communication, was initiated by its founder and CEO, Evelyn Castillo-Bach. She admits that her recent immersion into the creative community of authors, fashion stylists, and aspiring filmmakers opened her eyes.
"I never really considered how hard it is for young independent creatives to promote themselves to the world. During a recent visit to NYC, I witnessed how newly minted college grads, pursuing creative careers, pile up into small apartments, often in dangerous neighborhoods, because they can't earn a living pursuing their creative dreams. Others are literally homeless. They're not druggies or lazy. They are broke. It occurred to me that UmeNow can link the general public with young talent while still maintaining our privacy strong foundation, stated Castillo-Bach.
The idea behind the pivot is to invite creative talent to post blogs on UmeNow to promote their dreams, projects, and efforts at no cost to the creative and without requiring donors to sign up to UmeNow. A donation button within UmeNow can be activated by any creative with a Paypal account. Then if someone in the public wants to donate to the efforts of a creative, they can donate any amount directly to the creative. UmeNow does not extract a fee for this service. It's completely free. Any unsubscribed member of UmeNow can use the blog donation function. The only requirement is that the blog must be posted so anyone in the world can see it. If the creative selects privacy settings that allow only UmeNow members to view the blog, crowdfunding by the general public is automatically limited. At any time, creatives can edit, delete, or remove their blog post.
"People ask me why would I allow people to generate crowdfunding for their projects or goals without extracting a fee. It's a decision of both conscience and self-interest. Creative talent is deserving of support. A world without independent creative people is a frightening prospect. The company benefits by visitors to the site who may decide they want to join UmeNow for their professional and private communication. Our members are not using the blog function to its fullest potential. It's a win-win," stated Castillo-Bach.
Three Simple Steps to Set Up Crowdfunding:
1. Go to your profile section within UmeNow.
2. Add your donation email address. This is the email associated with your Paypal account.
3. Post a blog within UmeNow and select "Allow Donation."
Company Information:
UmeNow entered into its silent launch in July 2011. UmeNow has banned all tracking and all ads. Crowdfunding is available free of charge to all members.
UmeNow is a private network with a 2-tier membership structure. It promises the same privacy protection to its free members. Premium level members who subscribe for $6.00/ month have access to all site areas.
UmeNow is known for fiercely protecting the privacy rights of its members. All ads, third party apps, and games are banned to safeguard members from back door tracking and unauthorized information extraction.
Castillo-Bach earned her M.S. in 1993 from Columbia University Graduate School of Journalism. She has traveled extensively in Ethiopia and in the Balkans, accompanying her Danish husband who is a lawyer.
As a debut author Castillo-Bach takes her readers into an intimate world where unspeakable loss meets universal success principles. "Champions, Inc: Powerful Life Principles" was published on August 30, 2012, as an ebook, available on Amazon, ISBN:978-0-9882220-0-7.
Follow UmeNow on Twitter.