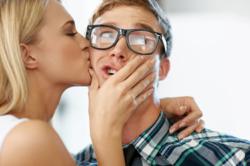 Live like no one is watching
London, UK (PRWEB UK) 26 September 2012
As university and college starts again, socializing remains a daunting challenge facing most students. It's not easy making new friends or discovering where other students are hanging out and, most important of all, finding out their relationship status. Student'U can help with that.
Student'U is a social discovery app for smartphones that helps students discover the student social scene and play in it, even flirt.
"But using Facebook alone for flirting is usually a recipe for regret," says Sonja Velic, psychologist. "Any flirting done in Facebook is immediately out in the open for all your classmates to see, and worse even your mom, now and forever more." Enter Student'U.
Student'U is a great complement to Facebook as it adds social discovery combined with flirting. StudentU turns flirting through Facebook into a private game so comments and flirts are not kept in the Facebook but in your StudentU FacebookFlirt profile. This is a safe place to flirt, far from prying eyes.
Student'U give you two flirt profile options, a Facebookflirt profile (fBf) for flirting with other Facebookflirt enabled students, and a classic flirt profile, for students who choose to flirt outside of Facebook.
"Student life is not just about flirting, it's also about making new friends, finding places to eat and hang out," says Marc Bisnaire, president of SmaartMobile. "We wanted to give students the ability to discover and connect with other students in their community and enrich their social life."
Student'U makes social discovery easy, using predefined profiles that help students better define themselves to make it simple to maintain their existing social circles of friends and family and to help them expand their social life through discovery.
Student'U will be available in several languages. Student'U is available for Android, iOS and WP7.
A student's University years will be some of the best ones of their life. Student'U makes it more fun.