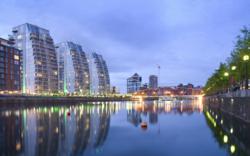 The record number of company registrations in the first half of this year points towards a recovering economy.
(PRWEB UK) 27 September 2012
During the first six months of 2012 Salford saw more new company registrations than any other first of the year on record for the town. During this time, there was a total of 384 companies formed, a rise of 5.8% when compared with the same period during 2011.
The rise in company formations could be due to the major regeneration programme that has recently been given the green light by the council's planning committee. There will be 1600 new homes built, as well as refurbishments to more than 1200 existing homes. Planning permission has also been granted to expand the Salford Shopping City and improve green spaces in the area. The first phase of the plan will begin this year and is set to be completed in 2016.
As well as a rise in company registrations, numbers of young directors in Salford have soared in recent years. In the first half of 2012, the percentage of director appointments under 25 years old was 9%, compared to 5% during the same period in 2011 and almost double the national average of 4.9%.
"Salford has experienced economic difficulties in recent years and also suffered damage during last year's riots.
"However, the record number of company registrations in the first half of this year points towards a recovering economy. And the huge amount of regeneration that will take place over the next few years is bound to benefit the area enormously."
With a rising number of company formations, more young directors and a substantial regeneration project in the pipeline, the next few years in Salford promise to be both exciting and prosperous.
More information can be found at http://www.duport.co.uk/salford.
Duport Business Confidence Reports are generated and released by Duport Associates Ltd. The data contained in these reports is assimilated and analysed by Duport using public record data from sources including Companies House, Office for National Statistics and Ordnance Survey. Duport Associates Ltd is a leading UK company formation agent, established in 1997 and registering around 10,000 new companies each year through its Companies House approved software.