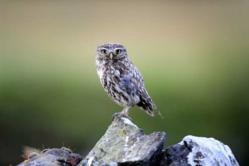 Their feathers blend in so well to the limestone walls
Peak District, UK, 28th September 2012 (PRWEB UK) 28 September 2012
The Peak District wildlife section of http://www.peakdistrictonline.co.uk has just got a little bit bigger, but with a very tiny addition. Popping up with perverse pleasure at unexpected moments, pleasing Peak District visitors, the little owl's camouflaging is utterly amazing.
"An owl in daylight, surely not?" laughs James Dobson, director and wildlife photographer at the family run company Peak District Online. "These little critters live very close to my home in Foolow, in the White Peak and I'm delighted they are getting their profile highlighted. I'm usually up at dawn every morning, finding new subjects to portray for our Peak District Wildlife section, and quite often I'm accompanied by one particular little owl, who seems to have got quite used to my presence now. I think they are probably one of most my most favourite birds of prey, and they are such characters. They can usually be seen perched on a tree branch, a telephone pole or a rock in the middle of the field. If you don't know they're there, they could be sat quite close to you undetected. Their feathers blend in so well to the limestone walls and they're very hard to spot unless you actually see them land."
James lives and works in the Peak District and along with fellow director Steve Wake, who is himself, a talented Peak District landscape photographer. The two started the very popular online holiday accommodation directory several years ago. What started off as a small family run business has now expanded to a dedicated team of staff who can now boast they are the largest holiday accommodation directory in the UK, covering the Peak District area. New pages are added to the website on a daily basis, and today heralds the arrival of 'The Little Owl."
"The little owl is quite tame and can stand perfectly still for a long time. I've been very privileged to get up close and personal with a little family of owls, who live nearby. The largest of them, which I'm presuming is the male, always keeps a close eye on me, more so than the rest and I don't blame him!" James goes on to say," it's an absolute pleasure to be able to combine my hobby and promote my job. There are not many people who are fortunate to do this and I pinch myself every day at how lucky I am."
"Our mindset from the beginning when we first had the idea for the website, was to help visitors to the area find not only accommodation suitable for what they could afford, but also to add a little extra information, facts and news about the Peak District," explains Steve. "Our site now attracts over 200,000 unique visitors each month and every week our team of experts add new pages to the website, constantly updating our latest offers, reporting news and providing little nuggets of interesting text to help the visitor to the Peak District enjoy the area they may have come to stay. Both James and I are proud of its popularity, and we hope visitors to the website enjoy our photographs and writing as much as we all enjoy producing it."
"I thought I knew a lot about the little owl before the new page arrived, but once our writer got work, I learned an awful lot more about this beautiful little bird and I hope my photographs do him justice."
The team at Peak District Online welcome viewers to read about is Peak District wildlife and add inspiration and ideas for places to visit whilst on holiday in the National Park. Visit the new page about the little owl, now open for viewing and have a hoot reading about the pocket sized bird of prey.