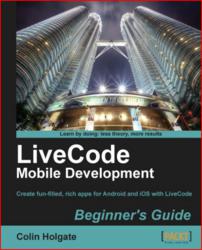 (PRWEB) September 25, 2012
Packt Publishing is pleased to announce LiveCode Mobile Development Beginner's Guide, a new book and ebook packed with step by step instructions for creating apps and interfaces. Written by Colin Holgate, this book will help create a simple sample application along with build interfaces and writing codes using a Multimedia Scrapbook as an example application.
LiveCode is a tool for developing mobile apps designed for readers who'd not want to use Objective-C, C++ or Java. Although it is a tool full of rich features to create apps it can be challenging to get beyond the basics and build interactive and fun apps. This book will help the reader develop various apps and upload the apps in the appstore.
The LiveCode Mobile Development Beginner's Guide book guides the reader in making a 'To do/reminders application', building User Interfaces like Touch interfaces, creating a jigsaw puzzle app that takes advantage of several mobile device features and also making standard looking buttons and fields, and programmatically designing the screen layout.
The book begins with simple calculator application and quickly enhances it using LiveCode Mobile. The reader can start by learning the interface controls for videos and images of LiveCode's environment. It then goes deeper into configuring devices, building user interfaces, and making rich media applications, lastly helping the reader uploading the mobile applications to App Stores.
This tutorial style book, moves from basic LiveCode coding concepts to its real-world implementation. It will teach developers techniques to use this new framework to develop interactive, cross-platform mobile applications. This book is for developers, consultants or students looking to create fast, scalable mobile applications. Basic knowledge of programming is required.
The book is out now and available from Packt in print and popular eBook formats. To read more about it and download a sample chapter, please visit the Packt web-page.