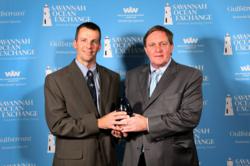 The Nonox Emulsion Combustion System is an innovative solution that can decrease emissions of harmful substances to the air considerably, both at sea and on land.
Savannah (PRWEB UK) 24 September 2012
Advancing a shipping and logistics solution for increased sustainability through zero-emissions, transport on land and at sea, the WWL Orcelle® Grant with $100,000 has been awarded to Nonox: Emulsion Combustion Systems submitted by Erik Cottell and Wes Pence.
Fossil fuel emissions contribute to global warming and are the root cause of many health problems. These emissions can be reduced by improving the combustion process on the inlet side of the engine/boiler through the use of water-in-oil emulsified fuel.
The Nonox emulsion combustion unit (ECU) is a complete emulsion fuel system containing the mixing chamber and fuel/water proportioning controls. The ECU produces an on-the-spot, water-in-oil emulsion fuel that reduces NOx, black carbon/soot and other air pollutants, without the use of surfactants or other additives. The system can be switched back and forth between emulsion and straight fuel at the flick of a switch. The Nonox Fuel Emulsions System is easy to install with little or no down time for the customer, the return on the investment is typically less than a year, and on larger installations less than that. This system is most attractive in today's market due to ever increasing fuel costs and more stringent emissions regulations.
Christopher Connor, Deputy CEO and CCO of Wallenius Wilhelmsen Logistics, congratulates the winners: "The Nonox Emulsion Combustion System is an innovative solution that can decrease emissions of harmful substances to the air considerably, both at sea and on land. The team has done an impressive job in developing this promising technology. We hope that the Orcelle Grant will make it possible for them to bring this product to market, and look forward to supporting the laureate on this journey."
This year's $100,000 Gulfstream Navigator Award was given to Protei: Ocean Cleaning Sailing Robots presented by Gabriella Levine. This solution best reflects the goals of The Gulfstream Navigator Award: applicability across multiple industries to generate a positive impact on the economy and the environment. "We congratulate Protei, winner of this year's award," said Joe Lombardo, executive vice president, Aerospace Group, General Dynamics, parent company of Gulfstream Aerospace. "They demonstrated what can be done when diverse groups work together. Everyone who presented a solution this week deserves to be recognized for embracing the spirit of collaboration and cooperation and for their commitment to make a positive difference in the world."
Protei is a seafaring surface vessel, constructed to carry research instruments and environmental clean-up equipment autonomously over long distances on the ocean via wind power. The project was conceived in response to inefficiencies in oil spill relief efforts, and frustration with the unsustainable research and design costs of current robotic oceanic drones. Protei's mission is to provide a locally accessible, economically efficient platform for the development of ocean-cleaning data collecting robotic drones. Their goal is to harness human innovation, technological ingenuity, and creative design to preserve the integrity of natural resources."
These LEAP TO ZERO+ Solutions all reduce the use of natural resources or waste generation as they increase productivity or economic well-being.
About the Savannah Ocean Exchange
Founded in 2010, Savannah Ocean Exchange unites international organizations across multiple disciplines and boundaries to distribute and adopt solutions that positively impact the Ocean, economies and health. The 2012 Board of Governors includes 31 thought leaders from around the world who represent diverse backgrounds and expertise; share a commitment to innovation and to the protection of our ocean, and the enhancement and advancement of solutions that will create new industries, expand job opportunities and recharge economies.
More about Wallenius Wilhelmsen Logistics
Wallenius Wilhelmsen Logistics (http://www.2wglobal.com) delivers innovative and sustainable global shipping and logistics solutions for manufacturers of cars, trucks, heavy equipment and specialised cargo. WWL has approximately 4,400 employees worldwide and deploys around 60 modern vessels. The company has a strong environmental focus and is an industry leader in developing innovative solutions to reduce its operational impacts on the environment.
# # #
For more information, please visit http://www.savannahoceanexchange.org or contact:
Anna Larsson
Head of External Communication, Wallenius Wilhelmsen Logistics
Phone Direct: +47 678 257 14
Mobile: +47 48 406 919
E-mail: anna.larsson(at)2wglobal(dot)com
Internet: http://www.2wglobal.com
Amanda Brown Olmstead
APR, Fellow, PRSA
Office: 404-659-0919
Cell: 404-771-4784
e-mail: amanda(at)newaboa(dot)com