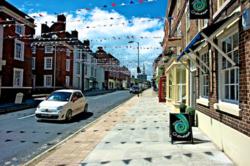 We want to provide visitors and holidaymakers with as much useful information as we can about the area they have chosen to stay
Peak District, UK (PRWEB UK) 27 September 2012
The experts providing the largest directory online for holiday accommodation and Peak District cottages in the UK, http://www.peakdistrictonline.co.uk, add two more pages to Ashbourne, the popular market town visited by many. The magnificent Manifold Valley and the delights of Dovedale are brought to life, adding more blurbs to the section dedicated to Ashbourne, pages already written with evocative text and stunning photographs.
"Dovedale is one of the most magical places in the Peak District," says James Dobson, director for the family run company Peak District Online. "Just outside the historical market town of Ashbourne, with its stunning scenery and wildlife, crags, caves, spires and ravines, Dovedale has to be one of the romantic places to visit in the area, with surprises around every turn."
Expanding an already full to bursting website dedicated to Derbyshire and the Peak District National Park, the team at PDO are passionate about the Peaks and launch their stunning new pages on a daily basis. A town of traditions, Ashbourne has a fast and furious footie match to its name, but as James points out, the town is surrounded by the most stunning scenery too.
"We pride ourselves in pointing out places to go and things to do in all areas of the Peak District, and our Peak District Villages section is what we are concentrating on at the moment. We highlight things that are going on in the town or village, offer all kinds of holiday accommodation choices, as well as useful information, facts and figures about the area. "He goes on to say," our mission is to uncover all parts of each village, its history, walks in the area, pet and child friendly places. Basically we want to provide visitors and holidaymakers with as much useful information as we can about the area they have chosen to stay."
What started off as a small family run business has now increased its staff and the busy team at the offices at Peak District Online are always busy working with Peak District Cottages and holiday accommodation owners, promoting local businesses as well as researching each Peak District village, discovering new documentation to help tourists and the local community.
"Dovedale is now one of the most visited national tourist sites in Britain," explains Steve Wake, fellow director at Peak District Online. "A deep gorge cutting to limestone rock, with crystal clear waters of the River Dove running through it, it really is the most spectacular place to walk or take the children to paddle. It even has its own stepping stones, which have famously adorned many Peak District postcards." He goes on to say," as if that isn't enough, the nearby Manifold Valley is utterly glorious and the valleys there have been described as the 'Switzerland of Staffordshire', winding its way through some of the most spectacular scenery in the Peak District National Park."
Both directors are budding photographers and their images are scattered throughout the pages of Peak District Online, bringing life and colour to the research. As new pages are added, the expanding website grows from strength to strength and the close-knit team of dedicated staff enjoy finding new places to highlight each week.
See new pages as they are added at the winning website portraying the Peak District and visit http://www.peakdistrictonline.co.uk/ today to discover more about each Peak District Village.