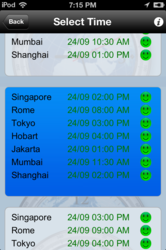 MeetupTime eliminates time zone differences
Singapore, Singapore (PRWEB) September 26, 2012
With globalization and increasing connectivity across countries, we often have to interact with business associates from different parts of the world. This can cause confusion when you are trying to arrange a conference call with various parties from different time zones. With MeetupTime, varying time difference in each city will be generated and users need not remember the different time zones across multiple countries.
MeetupTime aims to deliver convenience to the user by simply keying in the desired date to hold the meeting and the location of the parties in the conference call. In this new update, users can create groups to organize people into separate categories. After keying in the location of each conference call party, a visually appealing page with colour legends will denote how desire the timing is, with green for normal office hours, amber for possible hours and red for timings not recommended.
Thereafter, users can share the generated timings with the other parties by sending an email, creating a Facebook event or sending an iCal attachment. The MeetupTime can also be copied to your clipboard, set as an alert with push notification and the ability to add to your iCal. The minimum requirement to use MeetupTime is an iPhone, iPod touch or iPad with OS 4.0 or later.
MeetupTime is retailing at $0.99 USD (or equivalent amount in other currencies) and available worldwide exclusively through the App Store in the Productivity category.
Located in Singapore, edenpod was born in 2010 and prides itself in only building original iPhone applications and games. Our launched titles like our most recent game, BetterLetter, won an Honorable Mention in 2011 Best App Ever Awards. Our productivity app, MeetupTime has been featured in New and Noteworthy in the Apple App Store and our first game, NewtonApples has won over reviewers and leading iPhone app websites or blogs like 148apps.com amongst others.
All Material and Software (C) 2010-2012 Edenpod/ All Rights Reserved. Apple, the Apple logo, iPod, the iPod logo are registered trademarks of Apple Computer in the U.S. and/or other countries.