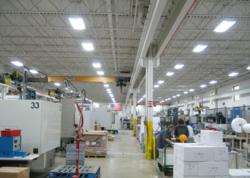 Bob's personal engagement quite frankly made our decision an easy one.
Macedonia, Ohio (PRWEB) September 26, 2012
Design Molded Plastics just completed a lighting project converting their 400 watt metal halide high bay fixtures to 6 lamp, T5 (HIF) high intensity fluorescent fixtures. Following the conversion of their 110,000 sq. ft. facility, they were able to reduce their energy costs to illuminate their manufacturing and warehouse areas by 46% and reduce by 60% the cost to illuminate their offices, which calculate to a $27,000/year reduction of their energy costs.
This lighting retrofit project reduced their carbon footprint in excess of 302 tons annually, while dramatically increasing their plant light level from 45 to 77 foot candles.
"After much research we contracted with Bob Taussig of ROI Energy Solutions in Hudson, Ohio to handle our conversion. Bob's personal engagement quite frankly made our decision an easy one. He followed through with his commitments with professionalism and integrity, which are diminishing traits in today's business environment. Bob's priorities were unwavering and consistent with Design Molded Plastics philosophy of conducting business. We couldn't be more delighted with our finished project." explained president, Jay Honsaker. "We were even able to incorporate motion sensors to save additional energy for areas of our facility which have minimal use during our 24 x 7 operation".
Not only was there a considerable reduction in energy cost to illuminate their facility, a lucrative rebate from First Energy and an accelerated tax deduction allowed by the IRS as part of EPAct05, made this an excellent payback for the Cleveland and Akron area manufacturing company.
Design Molded Plastics is a privately held, world class injection molding company serving the medical equipment, protective equipment, automotive and home appliance industries as well as many others in NE Ohio since 1985. They employ over 120 associates and have grown every year since its inception in 1985. For more information go to http://www.designmolded.com