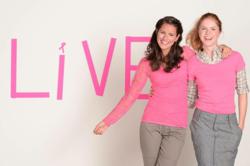 Salt Lake City, Utah (PRWEB) September 24, 2012
High-style, low-price retailer DownEast has announced the start of its fifth annual "LIVE for Pink" sales event. Through October 14, 2012, customers can purchase special limited edition "LIVE for Pink" tees and DownEast will donate 50 percent of the sales – up to $25,000 – to selected grant recipients to support their work relating to breast cancer awareness, education, assistance for victims and other endeavors.
With its previous "LIVE for Pink" events taking place in 2008 through 2011, DownEast has already raised more than $88,000 for charities in honor of National Breast Cancer Awareness Month. The DownEast limited edition "LIVE for Pink" tees are available in DownEast stores and online.
"The fight against breast cancer is a cause many of us at DownEast hold near and dear to our hearts," said Jonathan Freedman, VP of Apparel at DownEast. "We raise funds in support of National Breast Cancer Awareness Month with our 'LIVE for Pink' tees that are available for a limited time each fall. This year, we're contributing money from the 'LIVE for Pink' campaign to selected nonprofit organizations that are doing important work in their local communities."
The 2012 DownEast Charitable Organization grant recipients, featured on the DownEast by Design blog throughout the months of September and October, include:

Arizona Institute for Breast Health
Bosom Buddies of Arizona
Colorado Breast Cancer Coalition
Colorado Breast Cancer Task Force
American Lung Association Annual Fundraiser (Utah)
Christi Anderson Rack Pack Foundation (Utah)
Happy Chemo! (Utah)
Lifting Hearts Breast Cancer Support Group (Utah)
"In the same spirit that consumers have supported our stores and our brand, we're inspired to give back to this important cause," said Freedman. "Each year, we're touched by shoppers' enthusiasm to buy our 'LIVE for Pink' tees, and we're already seeing a tremendous response in our stores and online. As our company grows, our intent is to continue supporting more charitable groups in their work in their local communities."
DownEast will also once again co-sponsor the Pink Half Marathon, which will take place in Park City, Utah, on Oct. 13.
DownEast and its staff proactively support a variety of philanthropic causes year-round. Breast cancer survivors within the DownEast family include Llilli Murphy, wife of CEO Klane Murphy, and Claire Freedman, mother of company founders Jonathan, Bill and Charlie Freedman.
About DownEast
DownEast (http://www.downeastbasics.com), a leader in stylish and affordable apparel, home furnishings and accessories, believes that shopping should be a fun, guilt-free experience. Founded in 1991 and still family owned and operated, DownEast continues its goal of bringing customers the very best merchandise – from national brands to its own DownEast lines of home furnishings and DownEast Basics apparel – at the very best prices.
Shop for cute tops, womens sweaters, modest dresses and accessories at Downeastbasics.com.
The fast-growing retailer operates nationally with its Basics line via its online store in addition to 50 locations throughout the West including in Utah, Colorado, California, Idaho, Arizona, Washington, Nevada and Wyoming.
# # #