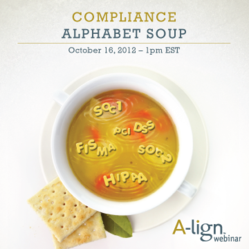 Compliance regulations are ever changing; let A-lign help in unscrambling your compliance soup mix.
Tampa, FL (PRWEB) September 25, 2012
A-lign Directors continue their quarterly webinars to unscramble the new regulations that affect businesses in keeping with their efforts to provide Stress Free Compliance.
Scott Price, A-lign CPAs Managing Director, Neil Gonsalves, Director of Assurance and Compliance Services, and Gene Geiger, A-lign Security and Compliance Services Director, will
present a webinar to distinguish the various compliance standards in the industry.
The presentation will take place on October 16, 2012 from 1:00 – 2:00 pm EST. All individuals/organizations are invited to attend the webinar. The goal of the discussion is geared to:

Learn the numerous compliance regulations affecting companies today;
Understand the affected industries of these regulations;
Help business owners comply with the regulations;
Learn which type of audits will demonstrate compliance to the objectives.
A-lign CPAs is a registered sponsor for Group-Internet Based CPE Programs and is listed on the National Registry of CPE Sponsors. Please indicate on the registration form if you wish to receive CPE credit for attending this webinar. Register online at our website.