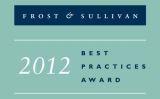 Singapore (PRWEB) September 25, 2012
Mach 7 Technologies (ASPAC) Pte Ltd ("Mach7" or "Company"), a leading provider of enterprise clinical image management solutions, has been awarded the 2012 Global Enterprise Imaging Informatics Entrepreneurial Company of the Year by Frost & Sullivan.
Each year, Frost & Sullivan presents this award to the company that has demonstrated entrepreneurial spirit by devising a strong growth strategy and robustly implementing it. The market research firm believes that Mach7 has shown strength in terms of innovation in business processes, leadership in customer value as well as market penetration.
Frost & Sullivan's report notes that Mach7's approach to image management is perfectly in line with the emerging paradigm that seeks to replace monolithic picture archiving and communication systems ("PACS") with a best-of-breed combination of a PACS-neutral, back-end infrastructure with diagnostic and enterprise PACS viewers. According to Frost & Sullivan, this dedication to product development sets Mach7 apart and allows it to adopt a multi-department, enterprise-oriented market approach to the image management market.
"Implementing its technology at prestigious healthcare institutions across the U.S. was one of Mach7's early achievements," said Frost & Sullivan Principal Analyst Nadim Daher. "The adoption of its solutions by some of the world's leading names in healthcare demonstrated the Company's thought leadership and its ability to effectively address complex challenges for large, highly demanding academic medical centers."
"This award is a great milestone for Mach7,' said Rudy Sugiarto, CEO of Mach7. "The support of the government, in particular, International Enterprise (IE) Singapore, has played an integral role in assisting Mach7 in our overseas expansion. We have made inroads overseas through their business missions and connections to established high level contacts in countries we have keen interest in. We look forward to continue working with IE Singapore to strengthen our positioning as a global company," he added.
IE Singapore is the government agency that drives Singapore's external economy. Through IE Singapore's overseas centres in the Middle East and business missions, Mach7 gained access to key officials in Saudi Arabia's Ministry of Health and the Qatar Foundation. Mach7 has since secured 3 key projects in the Middle East worth more than 4 Million USD.
In 2011, Mach7 made its first foray into the Japanese market, another growing sector in the field of medical imaging. "IE Singapore's Tokyo office has been invaluable, particularly for a market like Japan where language and cultural sensitivities are barriers to an otherwise huge market for our sector," said Ravi Krishnan, CTO of Mach7. IE Singapore has been advising the company on local regulations as well as introducing Japanese potential partners for the Company's entry into Japan.
Mach7 also announces the completion of a Series A financing by BV Healthcare II, a leading healthcare investment fund managed by BioVeda Capital. The Company plans to use the proceeds to strengthen its current presence in the United States, South East Asia, India, and the Middle East, where its existing customers include leading healthcare institutions such as Massachusetts General Hospital, Singapore General Hospital and Hamad Medical Centre.
Mr. Sugiarto said, "This investment is a tremendous vote of confidence for Mach7's technologies and the team we've built. We are excited to have gained the support and partnership of such a reputable firm as BioVeda," said Rudy Sugiarto, CEO of Mach7. "With BioVeda's support and their international network, we will expand our offerings into new markets and develop new enhancements and capabilities to gain an increased competitive edge in the market."
Damien Lim, General Partner of BioVeda Capital, said, "Mach7's innovative enterprise imaging solutions help organizations across the globe resolve complex interoperability and workflow issues. Clients can now own, share, and access their medical imaging data efficiently and at lower costs. We like the strong management team and are very excited about the tremendous potential for the Company, and the prospects for the fast growing and huge healthcare IT market."
About Mach 7 Technologies
Mach 7 Technologies, headquartered in Singapore, is a global provider of innovative, flexible, enterprise clinical image management solutions that enable healthcare enterprises to own, share, and access medical image data. Mach7's flagship Enterprise Clinical Image Management solution, Keystone Suite, is composed of innovative and sophisticated technology designed for vendor neutral archiving (VNA), intelligent routing and prefetching of relevant medical images, clinical viewing and complete image management. Keystone Suite has been used by healthcare institutions around the world for archiving, academic medical research, improved radiologist productivity, cost savings and more across an enterprise. For additional information, visit http://www.Mach7T.com.
About Frost & Sullivan
Frost & Sullivan, the Growth Partnership Company, works in collaboration with clients to leverage visionary innovation that addresses the global challenges and related growth opportunities that will make or break today's market participants.
Our "Growth Partnership" supports clients by addressing these opportunities and incorporating two key elements driving visionary innovation: The Integrated Value Proposition and The Partnership Infrastructure.

The Integrated Value Proposition provides support to our clients throughout all phases of their journey to visionary innovation including: research, analysis, strategy, vision, innovation and implementation.
The Partnership Infrastructure is entirely unique as it constructs the foundation upon which visionary innovation becomes possible. This includes our 360 degree research, comprehensive industry coverage, career best practices as well as our global footprint of more than 40 offices.
For more than 50 years, we have been developing growth strategies for the global 1000, emerging businesses, the public sector and the investment community.
About BV Healthcare II
BV Healthcare II is a life science fund managed by BioVeda Capital, a venture capital firm focused exclusively on investing in healthcare. It has invested in many biomedical companies with leading proprietary technologies and outstanding scientific and management talent. With its headquarters in Singapore and a deep international network, BioVeda has a strong combination of broad scientific and medical expertise, and financial and investment experience to assist partner companies. It has invested in companies in Singapore, China, Britain and the United States – one of which was acquired by Pfizer, another by Roche, two that went public on NASDAQ and one on the London Stock Exchange. For more information, visit http://www.biovedavc.com.