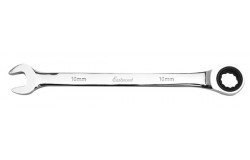 "Eastwood's Limited Time offer of a free 10mm Ratcheting Wrench is the perfect addition to any toolbox."
Pottstown, PA (PRWEB) September 25, 2012
As part of the introduction of its new line of professional-quality hand tools at affordable prices, The Eastwood Company today announced that for a limited time it is giving away 1,500 free 10mm Ratcheting Wrenches to visitors who complete the entry form. The Giveaway is scheduled from September 24 until supplies run out, and includes free shipping as well.
The 10mm wrench is part of a line, which contains over 60 different tools, ranging from screwdrivers to hex keys and wrenches and more. Eastwood hand tools meet or exceed ANSI specifications, are manufactured with the highest quality material and feature a no-hassle lifetime warranty.
"This wrench is the perfect addition to any toolbox, whether you have a large tool collection or are just starting to build one, said Shiva Menon, Eastwood product manager and tool expert. "This wrench represents the professional quality of Eastwood's new hand tool line. Eastwood is pleased to be able to offer it absolutely free of charge with no strings attached."
The Eastwood 10mm Ratcheting Wrench features a fully polished finish for comfortable use and easy cleaning. It is constructed of chrome vanadium steel alloy for durability and strength. The fine 72-tooth ratcheting action needs just 5 degrees to turn fasteners, making it perfect for working in tight work areas with limited clearance.
The entry form for the free Eastwood 10mm Ratcheting Wrench can be found at http://www.eastwood.com/free-eastwood-wrench for a limited time.
Eastwood markets unique tools and supplies for repair, restoration, and modification of cars, trucks and motorcycles. Founded in 1978, Eastwood continually develops new products to serve the home automotive hobbyist, as well as individuals and organizations focused on the restoration and preservation of automobiles and motorcycles. Writers are always welcome to use any article in Eastwood's Free Tech Library, with attribution. Contact Nick Capinski at ncapinski(at)eastwood(dot)com or 610-705-5404 (office) for hi-res photos or to speak with an Eastwood restoration expert.