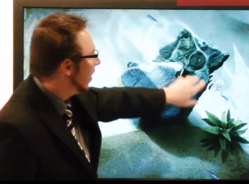 It's really important for our students to work alongside industry professionals while practicing their craft. Plus, the added bonus of giving back is totally awesome. You can't help but feel good about it. - Josh Sager
Pittsburgh, PA (PRWEB) September 26, 2012
For a little over 48 hours in October, Pittsburgh Technical Institute will put a 21st century spin on the timeless tradition of community barn-raising. In a modern demonstration of interactive reciprocity, Pittsburgh Technical Institute will host the Pittsburgh GiveCamp 2012 from October 19th to 21st in its Multimedia Studios on its North Fayette Campus located at 1111 McKee Road.
PTI's Web Interactive Design students will be joined by more than 30 designers, developers, database administrators, marketing professionals, and web strategists who donate their time to produce a series of interactive solutions for selected non-profits.
"It's an intensive creative camp with no limits to what can be achieved," said GiveCamp organizer Irwin Hurst. "Our only rule is that what we aspire to do must be able to be completed in one weekend."
Selected charitable organizations will explain their interactive goals on Friday, October 19, and then a team is assigned to the project and goes to work.
According to PTI faculty member Josh Sager who will spearhead hosting GiveCamp 2012, perhaps the most powerful element of GiveCamp is the assembly of diverse expertise. "Experts will jump back and forth across various teams throughout the weekend to help with whatever needs to be done."
Area non-profit organizations can still be considered for GiveCamp 2012 and should register at http://pghgivecamp.org/charities. Selected charities will be asked to participate in GiveCamp and will receive training for the long-term sustainability of the work created during the camp.
PTI will provide facilities, technology, meals and most important of all, multimedia technology students.
Sager encourages his students to get involved in GiveCamp. "It's really important for our students to work alongside industry professionals while practicing their craft," said Sager. "Plus, the added bonus of giving back is totally awesome. You can't help but feel good about it."
GiveCamp was founded by Microsoft developer Chris Koenig in Dallas, TX and supported 18 charities with the talent of 80 developers in its first year.
A software architect at CEI, Hurst brought GiveCamp to Pittsburgh in 2011. "It is an incredible learning and social experience," said Hurst. "Whether you are an experienced professional or brand new to the industry, there is a good chance that you will be doing something that you have never done before."
Visit the PTI website to learn more about the School of Design and its Associate Degree program in Web Interactive Technology.
About Pittsburg Technical Institute
Offering career-focused education since 1946, Pittsburgh Technical Institute is a two-year college with a 180-acre campus in North Fayette, west of Pittsburgh. PTI offers degree and certificate programs in areas such as Building Technology, Business, Criminal Justice, Design, Healthcare, Nursing, and Information Technology.
PTI students can take advantage of online course offerings, on-campus residence halls, student activities, intramural programs and community service programs. PTI is accredited by the Middle States Commission on Higher Education.
PTI was recognized by its employees as one of the region's Top Places to Work in a 2011 study commissioned by The Pittsburgh Post-Gazette.