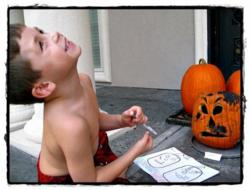 Rotting pumpkin turns into science project for pumpkin loving kid.
Dallas, TX (PRWEB) September 25, 2012
Fall Season is here and so are Pumpkins. What to do with the rotting pumpkin? One Mom's great idea, to teach her pumpkin loving son how to turn his Jack-O-Latern into a fun fall science project, has created a wave of blogs.
Kids who are planing to carve out their Mr. Rotty this season should take some advice from this rotting pumpkin experiment. After the Jack-O-Latern is carved, the kids create a science journal. This journal is kept daily with drawings and observations. Kids learn to take daily observations just like a real scientist in nature. They learn to make drawings and recordings and put them into chronological order. They see their experiment transform over time. The Jack-O-Lantern turns into Mr. Rotty. Their daily drawings and oberservations transform into a real scientific journal.
This Halloween rotting pumpkin activitiy has created a wave of blogs. Science loving Moms have responded in numbers about their own pumpkin science activities and other silly science projects. Kids are having fun with the classic vinegar and baking soda explosions by the Little Mad Scientists.
Among the featured silly science links on Kids Activities Blogs are preschoolers that made toothpaste for elephants, messy kids who were messing with solids and liquids and tot school kiddos who are making raisins dance. Volcanos, I Spy Toy Collages, Luminaries, Snow experiments of all kinds of shapes, science with magnets, and absorbing homemade paints are just a few among the bucket list of replies from Moms.
Silly science experiments for the Fall are a great way to get kids of all ages involved in real educational and fun science projects that will create memories for years to come. Kids Activities Blog has the latest blogs from quirky science loving Mommas and their little Mad Scientists.