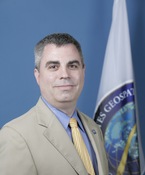 The addition of Jim to our team further exemplifies the continued maturation of USGIF as an organization and as a thought leader for the Community
Herndon, VA (PRWEB) September 24, 2012
The United States Geospatial Intelligence Foundation (USGIF) is pleased to announce the appointment of Dr. James (Jim) Ellsworth as Chief Performance Officer. Dr. Ellsworth's primary responsibility is to lead USGIF's Certified GEOINT Professional initiative.
As Chief Performance Officer, Dr. Ellsworth assists GEOINT Community leaders and organizations in identifying performance gaps, challenges or opportunities separating current from desired performance levels, diagnosing their cause, and designing solution strategies in ways that evidence suggests are most likely to close the gaps. Dr. Ellsworth will also work closely with Dr. Max Baber, USGIF Director of Academic Programs, in advancing USGIF academic efforts.
"The addition of Jim to our team further exemplifies the continued maturation of USGIF as an organization and as a thought leader for the Community," said USGIF President Keith J. Masback. "Professional certification is the next logical step in the progression of our commitment to supporting and enhancing GEOINT training and tradecraft, and we were fortunate to find someone with Jim's unique combination of formal training and professional experience to lead this critically important effort for us."
Dr. Ellsworth comes to USGIF from the U.S. Naval War College, where he served as a Professor of Joint Military Operations. During his tenure there, he designed and led the award-winning web-enabled Command & Staff Program. An intelligence professional for over 20 years, Jim has completed formal education and training with the Army, Navy, and Air Force. He spent the first half of his career with the Army's Armor and Intelligence Schools, and the last decade with the Naval War College, where he graduated in 2003 with highest distinction.
Prior to joining USGIF, Jim developed the program evaluation strategy for Army Military Intelligence training, led the transition "from Training to Performance Improvement" with his article in Military Review, outlined a vision for intelligence professional associations as partners in educating the Community in the 21st Century, and worked with the Project on National Security Reform in preparation of its 2011 report on the design of an integrated National Security Professional Certification and Development Program. Dr. Ellsworth earned his Ph.D. in Instructional Design, Development, and Evaluation from Syracuse University, holds masters degrees in Business Administration and National Security & Strategic Studies, and is a Certified Performance Technologist. He serves on numerous professional boards and councils and is a Charter Life Member of the Army's Military Intelligence Corps Association.
About USGIF
USGIF is a non-profit educational foundation dedicated to promoting the geospatial intelligence tradecraft and developing a stronger GEOINT Community with government, industry, academia, professional organizations and individuals whose mission is the development and application of geospatial intelligence to address national security challenges. For more information, please visit http://www.USGIF.org