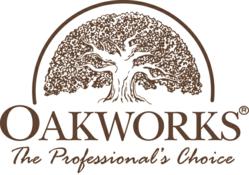 New Freedom, PA (PRWEB) September 25, 2012
For 35 years Oakworks has been providing professional massage equipment that supports the health and wellbeing of therapists and patients alike. The Oakworks customer has always been the professional therapist and they have been supported with the products and educational tools they require to treat their patients. The Oakworks Educational Series, an informational video library is accessible to all therapists at no charge. It is only one of many ways in which Oakworks embraces excellence in education, service and product leadership.
One of the most important aspects of the AMTA National Convention is the opportunity to network with, and learn from, some of the most successful massage therapists and massage therapy educators in the industry. "One of the best ways to be successful is to learn the habits of other people who have achieved the level of success that you would like for yourself," said Jeff Riach, CEO of Oakworks. "These educators are top professionals in their fields, and they know what it takes to succeed. Sometimes you just have to know the right people, and ask them the right questions."
Along with Oakworks, the following Oakworks Educational Series partners will be attending the AMTA National Convention:

Carole Osborne-Body Therapy Associates. Carole Osborne, award winning educator, author, founder of Body Therapy Associates, and Co-Founder of the International Professional School of Bodywork has spent much of her career focusing on the needs of prenatal, perinatal and post-partum patients.
Taya Countryman-SRT. Taya is credited with developing Structural Relief Therapy, which she has taught since 1992. She has won numerous awards from the AMTA Washington State Chapter, including Outstanding Service to the Profession - 2003 Service to the Chapter Award - 2006 Chapter Meritorious Award - 2010.
Gloria Coppola of Massage Pro CE, a recent inductee into the massage therapy hall of fame, has mastered many massage modalities, but is perhaps best known for her teaching of Lomi Lomi Massage, a popular Hawaiian massage technique that she learned during her time living on the island of Kaua'i.
Stew Wild & Katie Adams-360 NMT. Stew Wild, a well-known massage educator, researcher and therapist has partnered with Katie Adams, expert in soft tissue pain management to found the seminar division of 360 NeuroMuscular Therapy.
Patrick Ingrassia-Nayada Institute. As the founder of the Nayada Institute of Massage and inventor of the Bodysaver Method, he teaches massage therapists to work in safe and effective ways that help to extend their careers and provide a high quality, professional massage experience to their clients.
Karen Kowal-Mother Earth Pillows/Pillossage. Pillossage is a groundbreaking modality developed by Karen Kowal that combines hands-on techniques with specifically designed thermal flax pillows.
Anita Shannon of ACE Massage Cupping. A Massage Therapist and Cosmetologist practicing out of Asheville North Carolina, Anita is the Director of Advanced Continuing Education (ACE) established in 2001. She has presented countless workshops on ACE Massage Cupping™ and MediCupping™, techniques she developed based on theory rooted in Traditional Chinese Medicine.
Kathleen Gramzay of Kinessage, is a certified Massage Therapist and Approved CEU Provider through the National Certification Board for Therapeutic Massage & Bodywork. The owner of Knead for Balance, a highly successful practice in Scottsdale, AZ, she is the developer of Kinessage® Massage Through Movement.
Dallas Hancock and Flo Barber-Hancock, of the National Institute of Craniosacral Studies and the Hancock CranioSomatic Institute, are influential practitioners and instructors of Craniosacral Therapy.
One of AMTA's core values is "we embrace excellence in education, service and leadership." Jeffrey Riach, CEO of Oakworks commented that Oakworks and the AMTA have shared this value for a long time. "From the very beginnings of Oakworks, the professional needs of the massage therapist have been at the very core of our business. We always welcome the opportunity to connect with old friends as well as establish new relationships in our ongoing commitment to this very important health and wellness market. We are looking forward to seeing everyone at this year's AMTA National Convention."
About Oakworks:
Oakworks, Inc. is the premier manufacturer of medical, massage, wellness, and spa equipment in the U.S. with over thirty years design and manufacturing experience. With a 91,000 square foot state of the art facility located in Southern Pennsylvania, Oakworks is known for design innovation, sophisticated engineering, and quick turnaround time. Every table built in the modern manufacturing facility comes with the reliability that today's medical professional demands. Offering a unique commitment to U.S. manufacturing and environmental wellness, Oakworks is setting the global standard for medical, spa, and massage tables and accessories. For more information and their Sustainability Statement, please visit http://www.oakworks.com
For additional information on Oakworks and their products Contact:
Email address: info(at)oakworks(dot)com
Phone: 717.235.6807