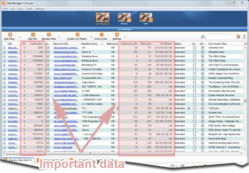 IBP helps businesses to get first page rankings on Google.

IBP 12 is fully compatible with Google new ranking algorithm.
(PRWEB) September 26, 2012
Many websites have been hit by Google's recent 'Penguin' algorithm update. These businesses lost their top rankings on Google, resulting in a major decline in visitors.
Google's Penguin algorithm update targeted websites with unnatural backlink profiles. Websites that utilized paid links or other unnatural backlinks were removed from Google's index.
To make sure that a website won't be penalized, businesses need a reliable SEO tool that enables them to do an in-depth audit of their backlinks. This can be done with the link manager in the new IBP 12.
Anchor texts, domain diversity and more backlink information *
Google doesn't like hundreds of backlinks with exactly the same anchor text (the text that is used to link to your site). Diversified backlinks that contain keywords that are related to your business work best.
The link manager in IBP enables business to check the backlink structure of their websites. IBP offers a lot of information about the sites that link to a site:
the anchor text
the IP addresses
the Google PageRank
the Alexa TrafficRank
the number of outbound links on the page
the total number of links on the page
and much more information
These signals help businesses to make informed decisions about their backlinks. Depending on the structure of their backlinks, they could remove some backlinks, diversify the anchor text of the backlinks, diversify the backlink sources or simply get new backlinks.
A full-featured SEO solution *
In addition to the backlink data above, IBP provides businesses with many more helpful tools. IBP 12 is an ethical search engine optimization tool that is fully compatible with Google's brand-new ranking algorithm. IBP is 100% safe to use and it only uses white-hat SEO methods that are beneficial to search engines, businesses and searchers.
IBP covers all aspects that are needed to get high rankings in today's highly competitive environment. It offers tools for backlink management, backlink building, competitive analysis, keyword research, search engine submission, content submission, website optimization, search engine rankings checks and more.
People who optimize their websites with IBP get high rankings because they deserve it, not because they have found a loophole in Google's algorithm.
A lot of work and expertise has been invested in IBP 12. The developers are very confident that the users of IBP will get the best possible results. For that reason, they offer a top 10 ranking guarantee: people who do not get top 10 rankings after working with IBP, will get their money back.
Axandra is the developer of popular spam-free search engine optimization tool. In contrast to other SEO tool developers, Axandra focuses on long-term solutions that lead to lasting results. The company says that ethical search engine optimization should be a win-win-win situation that is beneficial to search engines, businesses and searchers.