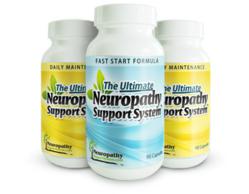 I suffered from Peripheral neuropathy for years…
and now my pain is finally gone!
London, UK (PRWEB) September 26, 2012
The neuropathytreatment.com website is for a limited period of time offering visitors to the site a free 14 day sample of the Ultimate Neuropathy Support System. The System is a unique blend of herbs designed to alleviate the symptoms of neuropathy such as numbness and tingling in the hands and feet and painful burning sensations.
Peripheral neuropathy is a condition that causes damage to the nerves in the peripheral nervous system. It has been estimated that around 2-8% of the population will suffer some form of the condition during their lives. The condition is especially common in diabetics with around 60% going on to develop mild to severe symptoms. Various forms of neuropathy are much more common in the aged and elderly.
The causes of neuropathy are varied and are often connected to an underlying medical condition such as Guillain-Barre syndrome or in 30% of cases for no determinable reason. As damage can occur throughout the peripheral nervous system symptoms can vary significantly from person to person. Damage can occur to sensory, motor and autonomic nerves producing symptoms that can range from numbness and pain in the hands and feet to digestive and cardio-vascular problems.
The Ultimate Neuropathy Support System (UNSS) has helped thousands of sufferers to manage their symptoms. 100% natural and safe it has been shown to help in a number of ways:

It can rapidly reduce or eliminate symptoms of peripheral neuropathic pain
Help to reverse the symptoms of neuropathic pain over time
Help to eliminate the stress and anxiety that dealing with neuropathic pain on a daily basis brings
The UNSS is a neuropathy support formula made from a unique mixture of herbs including Passionflower, Lobelia, California Poppy, Corydalis Yahhusuo and Prickly Ash Bark. The symptoms of neuropathic pain are notoriously hard to treat as they do not respond to regularly prescribed painkillers.
A free 14 day sample of the Ultimate Neuropathy Support System is available from the neuropathytreatment.com website or by calling the 24 hour Toll Free number 1-800-748-8559. It is available without risk or obligation with a small charge to cover postage and packaging. A $20 discount on the UNSS is also available with membership of the preferred customer club.
About neuropathytreatment.com
The http://neuropathytreatment.com/ website was established by Chad Atkinson. Chad is a diabetic and long term sufferer of neuropathic pain. The site has been created to provide clear and helpful information to sufferers of all types of neuropathy and to help them manage their symptoms. More information about diabetic and peripheral neuropathy treatment is available on the website.