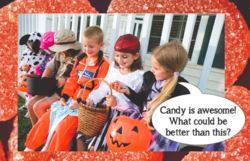 Memory Cross tracts for Halloween are one of the most creative way to share the Gospel.
Jamestown NC (PRWEB) September 26, 2012
The popularity of Trunk or Treat has been steadily growing. More churches are coming to realize that trunk or treat provides a way to reach the community and invite visitors to church. As the concern over the safety of trick or treat grows, parents are looking for safer alternatives.
Churches are meeting the opportunity by expanding trunk or treat to include food, games, hay rides and music. This in turn has drawn greater crowds and has become a major mission and service outreach at many churches. Memory Cross has created origami style Christian tracts that help churches share the Gospel at their trunk or treat event.
Memory Cross tracts are so unique that they capture the attention of children and adults. Each card contains four panels that are designed so they never stop folding. This design is so different from anything else that it gets the attention of children and parents.
Each panel has part of the salvation story and as children flip through the card they will be presented with the Gospel. There is also a spot where churches can include their name and contact information.
The cards are available from the Memory Cross website.
About Memory Cross: Memory Cross creates origami style tracts, Bible stories and Scripture memorization cards. The tracts and Scripture cards can be used for adults and children on mission trips and for local outreach. Bible stories are printed as coloring cards to instill God's Word in the hearts and minds of children.