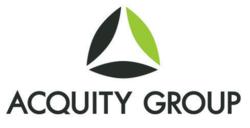 (PRWEB) September 24, 2012
Acquity Group (NYSE MKT: AQ), a leading global Brand eCommerce™ and digital marketing company, announced today that its client, Penske Truck Leasing, was honored with a Mobile Web Award for Best Mobile Site for http://www.PenskeTruckRental.com.
Acquity Group directed the design and assisted with the front-end development of Penske's mobile website, which was launched in the summer of 2011. As a direct result of the new mobile site, Penske created a better experience that led to an increase in mobile sales for both local and one-way moves across the United States.
"A strong mobile presence has positioned us to be more competitive in the market," said Brandie Searle, Director of Interactive Solutions and Innovations for Penske Truck Leasing, "It's an honor to be recognized with a Mobile Web Award for the transportation industry."
The MobileWebAwards program, presented by the Web Marketing Association, is the premier annual website award competition that set the standard of website development excellence and names the best websites in 96 industries. The 2012 Mobile Web Awards were evaluated on seven criteria including creativity, impact, design, content, interactivity, ease of use and use of the medium. The mobile transportation category, for which the Penske mobile website took top honors, was featured as a category for the first time this year.
"Penske is a true pioneer of mobile in its industry and that has translated directly to increased sales and an improved user experience for their brand," said Tom Nawara, Vice President of Emerging Solutions and Innovation at Acquity Group. "With mobile becoming a preferred shopping channel for customers across just about all industries, it was imperative to design an experience that more closely fit the needs of Penske's on-the-go audience."
Acquity Group's innovative approach to digital solutions, known as Brand eCommerce™, helps brands provide a more consistent user-experience across channels through a unique blend of technology and marketing – a strategy that speaks directly to the needs of both clients and users. In fact, Acquity Group has been recognized with numerous industry awards, most recently with a Webby.
To learn more about winners and criteria for the Mobile Web Awards visit http://www.mobile-webaward.org/mwa/.
About Acquity Group:
Acquity Group is a leading global Brand eCommerce™ and digital marketing company, creating award-winning digital experiences for global brands. Our multi-disciplinary approach brings together strategy, design, and technology to create brand-unique experiences that build unbreakable customer relationships. Acquity Group works with leading brands like Adobe, AT&T, General Motors, Motorola, and Saks Fifth Avenue through offices in North America and Asia.