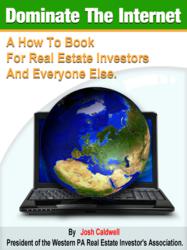 Pittsburgh, PA (PRWEB) September 27, 2012
The Pittsburgh Real Estate Investors Association has named Windows R US of Pittsburgh to be the club's endorsed window vendor. The Pittsburgh Real Estate Investors Association is Western PA's fastest growing real estate investment club, with members across eight counties.
Vendors to the club are selected from industries that offer services to real estate investors. In the case of Windows R US, they sell a very good quality window to both landlords and house rehab style investors. The reason that Windows R US was selected is three fold. The Castle Shannon based company has had a long standing relationship with the club. They offer a great price on a good quality product.
Vendors are selected from the suppliers that are usually associated with property maintenance like plumbers, electricians, roofers, excavators and similar trades. Other vendors are companies like Home Depot, who supply the raw materials for property repair. Other vendors are less obvious, but still provide tremendous value to the club. The club maintains a roster of lawyers, accountants, and mortgage brokers, as most real estate clubs do. Also on the club's vendor list are companies like Tambellini Seventh Street Restorante a great Italian eatery in Pittsburgh's cultural district, and the National Real Estate Insurance Group, a national insurance company that caters to landlords across America.
The criterion for vendor selection is pretty simple. A vendor has to contact the club and apply to advertise to the membership. With several hundred real estate investors, it is not hard for the club to fill its vendor rolls. Next the board members of the Pittsburgh Real Estate Investors Association conduct a basic background check on the business applying for consideration. If the business has a good reputation and offers a service to the club members, then the business is approved and they become part of what amounts to an internal Angie's List for club members. Vendors who are able to secure a spot as a vendor the club reap the financial rewards of that partnership.
For select few vendors who have proven themselves to be good partners to both the club and to the local real estate investors and landlords in the Pittsburgh market, there is the potential to gain an elevated status as an endorsed vendor of the club. This endorsement does not come easily. It cannot be bought; it must be earned over time through a combination of good products, great prices, and even better service.