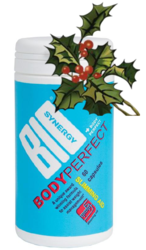 (PRWEB UK) 25 September 2012
Like it or not, the great holiday juggernaut that is Christmas is rumbling out of hibernation and preparing to rear its garland-adorned head. Whether you're ready or not for Bing Crosby on repeat, special-edition peppermint products, and heaps of holiday stress, now's the time to prepare your battle plans.
If squeezing into that holiday dress required a Christmas miracle last year, Bio-Synergy's got the expertise to make it happen. Follow these 8 Simple Rules to a Slim Christmas and you'll be valuable real estate under the mistletoe come the 25th.
1. RISE AND SHINE
It's the same for smart gift shopping as it is for the human body: get started early. And a week or two won't cut it. Circle September 25th on the calendar. It's exactly 13 weeks out, and it's a must to use every second of that time to make important yet gradual changes to the body. Giving your body plenty of time to slim down has two important effects: it allows the weight loss to be permanent, and it avoids stressful last-minute diets that lead to yo-yoing weight and unhealthy eating.
2. OPEN YOUR EYES
A recent study found that shoppers who read the nutritional information of the food they buy weigh an average of 9 lbs less than those who don't. Take an interest in what you're eating and take a look at the label. If there are any ingredients listed that a 3rd grader couldn't pronounce, drop it.
3. PULL THE SWEET TOOTH
Refined or processed sugars are a major source of empty calories – try to cut them out entirely. That means avoiding confectionary, soda, energy drinks, and white flour (bread, pastries, pasta, rice, etc.). For a healthier base to use with dinner, try quinoa or bulgur wheat. Both are high in fibre, lowcarb alternatives that bring a fresh twist to the old stirfry.
4. A LITTLE HELP FROM YOUR FRIENDS
Smart supplementation can be the difference between success and failure in any weight-management program. Get some guardian angels on your side with proven weight-loss products like Bio-Synergy Body Perfect or Bio-Synergy CLA. Body Perfect uses powerful herbal extracts to boost your metabolism, and CLA burns up fat stored in cellulite. Taken together, they're a powerful ally in the war on weight.
You can view the rest of the 8 Simple Rules for a Slim Christmas over at the Bio-Synergy Blog at http://www.bio-synergy.co.uk/blog/