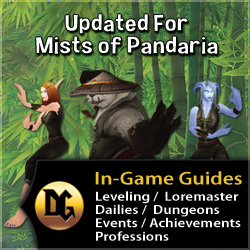 (PRWEB) September 24, 2012
Dugi's Ultimate WoW Guide, the popular World of Warcraft leveling guide, is getting ready to release their Mists of Pandaria update. While their leveling guide from 1-90 is their most popular product, players who are not planning on leveling up a Monk or another Pandaren class have been instead flocking to the Dugi's new Dailies Guide.
The Dailies Guide is a software add-on just like the leveling guide. It uses Dugi's wildly popular questing software to show players exactly how they can complete their daily quests in the shortest amount of time. You can pick a particular faction (or a couple of factions) and it will show you not only the fastest route for completing dailies, but it will also show you which quests to pick up and exactly where to go to complete these quests.
Many players mistakenly grab leveling guides without actually thinking about which guide they would use more. Using Dugi's Guide, players can expect to go from level 85 to level 90 in under a day. After that, they will no longer be able to use the leveling guide unless they level a new character.
The dailies guide on the other hand provides a lot of use for players long after they hit level 90. If your goal is just to get Exalted with the new Mists of Pandaria factions, players have to complete daily quests every day for a month or two. With Dugi Guides software, players can complete these often tedious dailies in a short amount of time. Other players use the guide long after they reach exalted as a way to earn gold. You can turn the guide on its speed version and it just picks the fastest 25 quests rather than worrying about faction, making it useful for earning gold.
This guide is extremely useful if you have multiple characters. Dugi's Guide has no limit on the amount of characters you can use the software with, so if you can complete multiple sets of daily quests across multiple characters in order to earn literally thousands of gold per day.
More details available on Dugi's Guide at Strategy Guides HQ.