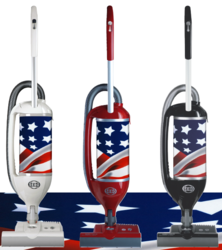 Centennial, CO (PRWEB) September 25, 2012
SEBO America is celebrating this political season by offering an Election Special. For a limited time only, a special edition of their award winning FELIX 1 Premium upright vacuum cleaner that proudly displays the American flag is available in three unique model colors: white, red, or black. This amazing vacuum cleaner is excellent for cleaning up after your family pets and can easily clean up political dirt!
Made in Germany, the stylish FELIX 1 Premium offers commercial-grade quality and all the flexibility of a canister vacuum in an upright configuration. It also features a "flex" neck with amazing 180° steering ability, variable suction control on the three-level adjustable handle, and an ultra-modern filtration system.
SEBO's team of engineers and designers then integrated a detachable suction unit that instantly becomes a hand-held vacuum, an instant-use suction hose, with a full bag or clog indicator, a low 6-inch horizontal cleaning profile that fits under beds and furniture, a long 31-foot cord, and comes with two on-board attachments. In addition to an unparalleled, five-year warranty support program, the included FELIX power head has a plethora of features that will make cleaning and maintenance a breeze.
The FELIX power head has manual height adjustment, cleans all types of flooring surfaces and has excellent pet hair removal capabilities. Its spinning brush roller can be shut off to clean delicate rugs and hard floors with straight suction and has protective rubber-coated wheels, tool-free brush roller removal (for replacement or bristle cleaning), and an orange warning light illuminates when brush height is set too high for optimal cleaning, the bristles are worn, or automatic shut-off occurs due to a brush obstruction.
For more information on SEBO or their Election Special, visit their website at http://www.sebo.us, or email info(at)sebo(dot)us.