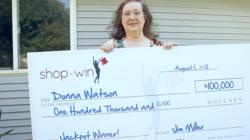 "I've never won anything like this before in my entire life."
Waltham, MA (PRWEB) September 26, 2012
Shop To Win™ announced today that Donna Watson of Pullman, WA is the most recent winner of Shop To Win's annual $100,000 cash giveaway.
"It's so great to see winners from all over the country," said Jim Miller, CEO of Shop To Win. "It might mean we need to travel a little further to deliver checks but it's worth it! Donna is a very deserving winner and there is nothing like seeing reactions from our winners when they finally see their check."
Donna was handed her check by a Shop to Win employee at her home in Pullman, WA. "I've never won anything like this before in my entire life," said Watson from her living room couch. "I couldn't believe it when they called to tell me I was the winner and still didn't believe until they showed up at my door with the check. What a blessing in my life!"
Watson is the 7th $100,000 recipient since the launch of the grand prize giveaway.
Shop to Win's next $100,000 grand prize giveaway takes place on New Year's Eve, 2012. "We can't wait to find our next grand prize winner," said Miller. "Giving away money is the best part of the job."
Shop To Win members earn entries every time they shop at one of over 4,000 participating online merchants. Members can also earn free entries right on the Shop To Win website. Shop To Win awards a daily $500 prize and an annual $100,000 prize. It is completely free to join the program.
For more information, visit http://www.shoptowin.com