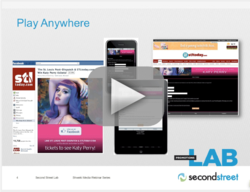 Money spent on Online Promotions, like contests and coupons, is increasing. Online Promotions spending will exceed Online Advertising spending in 2014. By 2016 over $72 billion will be directed to Online Promotions.
Austin, TX (PRWEB) September 27, 2012
Why One Should Use Online Promotions:
Contests fit into a big trend regarding promotions and where advertisers are spending money. Changes are occurring in the amount of money spent in Online Advertising vs. Online Promotions. Roughly $40 billion is currently spent on Online Advertising, but growth has stagnated. Money spent on Online Promotions, like contests and coupons, is increasing. Online Promotions spending will exceed Online Advertising spending in 2014. By 2016 over $72 billion will be directed to Online Promotions.
Why One Should Use Contests:
Contests are huge in building an audience and greatly increase page views and visitors. Contests help gain revenue and grow foundation of business. Reasons to Use Online Contests:
1. Build audience, page views and awareness
2. Generate Revenue through sponsorship and ad revenue-- advertisers want to be part of a promotion.
3. Registration builds the user database for email marketing, generating leads for one and and their advertisers.
4. Powers one's social and mobile strategy, increasing Facebook "likes" and Twitter followers.
Sponsored Contests:
This is any contest that has a sponsor attached to it, and it is a great way to bring in advertisers. Examples are Sweepstakes or photo contests. It is important to match up correct contests with correct advertisers. Sponsored Contests can generate submissions, registered users, revenue, page views, etc.
Lessons Learned from Successful Case Studies:
The contest must resonate with readers, so it's important to target the niche in a fun and vibrant way. It's crucial to find the right advertisers and be sure to tie together print and online promotion. Sponsored Contests create large opportunities and promotions can run across all titles.
8 Steps to Sponsored Contest Success:
1. Define the Contest Team- The team needs to be accountable for success; it's important to get the right people involved. No one-size-fits-all teams.
Standing Members- Sales Manager Promotions Sales Expert Product Manager/Lead Webmaster
Other Potential Members- Customer Service Manager Marketing/Community Relations Key Traditional Representative. One should make sure everyone can execute a successful plan.
2. One needs to understand the goals: It's necessary to address all these questions before embarking on contest:
What are the goals for each individual contest and the overall goals for the year? Where has their been the least success? Can contests help there? What are the revenue goals? How much revenue is the goal to derive from the contest? Is it a goal to grow specific advertising categories? Can contests help grow a segment that one wants to get better with? Is growing the email database a goal? The social database? Is the point to grow Facebook "likes" and Twitter followers?
3. Target the Right Advertisers: One should consider what advertisers they're hoping to work with. Different advertisers make sense for different contests. A good strategy is composing a list of desired advertisers and developing promotion ideas that would appeal to them.
Finding the right contest to line up with the right advertiser is the main goal.
4. Develop a Promotions Calendar: When developing a calendar, one should consider: goals, advertiser's goals, what advertisers one is trying to target, special events and sections one sponsors/runs throughout the year. Will the contest align? Once the calendar is complete, one will have a great contest plan set out for the year. Then one should put projected revenue against plan and work backwards. It's important to get in front of advertisers months in advance to give the sales team the best chance.
5. Choose the Right Sponsorship Model: 3 Main Options--
--Exclusive Sponsor-The simplest option. The advertiser should pay premium for being the only sponsor. A good fit for large traditional spenders. Contests are built with the advertiser in mind.
--Category Exclusive Sponsors-Multiple sponsors, but only one in each sector. Advertisers need to be motivated to get sponsorship before their competition does. Example: For a pet-related contest: One pet store sponsor, one groomer, one veterinarian, one kennel, etc.
--Multiple Sponsors-No category exclusivity. Goal is to get as many people as possible to buy into sponsorship. Provides the widest variety of options to meet revenue goals. Often geared toward smaller advertisers. Multiple advertisers can add up to big revenue
6. How to Price Sponsorship Packages: It's important ot consider the prospect list and estimate what dollar amount an advertiser will invest in your contestk considering what will be in the package and what other promotional opportunities are there around the contest. Will it include print, banner, Facebook, Twitter, email promotion? What would be the list value of promotion as whole? What type of sponsorship? Exclusive, Category Exclusive, or Multiple Sponsors? Value of integrated promotional package? Who is offering prizes? Are there naming rights involved for the contest? All factors must go into price.
7. Develop Integrated Promotions:
One should take advantage of different platforms to promote contests, and think about using online and print, along with social media, e-mail blasts and text alerts. It's important to get promotion out across all channels. Drive more participation and value for advertisers.
8. Build & Monetize Your Email Database:
One should think about ways to monetize the email database, perhapscvia follow-up emails or deals programs. Sponsored Contests are a great ways to drive revenue and conversations with new and existing advertisers
Learn more about how to create online contests from Second Street and Second Street Labs. To date, UPICKEM has executed:
▪ More than 60,000 contests
▪ On more than 1,600 local media sites
▪ More than 10 million players have participated
CLICK HERE TO WATCH THE ENTIRE WEBINAR
Meet the expert:
Matt Coen is the President & Co-Founder of Second Street. Second Street provides private-label online promotions solutions and partner success services to over 2,400 media and marketing partners. Promotions platforms include online and Facebook contesting, deals and email communications.
Shweiki Media's mission has always been to help publishers improve by providing the most profitable, hassle-free printing experience possible. This includes guaranteeing the highest quality product, exceptional customer service and on-time delivery.
As a printer and publisher, Shweiki Media also believes that this hassle-free experience includes making their clients better. Utilizing relationships with industry experts, Shweiki Media strives to educate clients and help them thrive in the exciting world of publishing--while having lots of fun along the way! (shweiki.com)