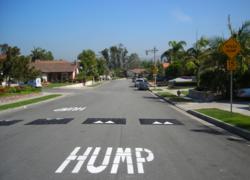 They just hit the spot for us. They slow cars down but let traffic keep flowing.
Anaheim, CA (PRWEB) September 25, 2012
When the city of Anaheim decided to install speed cushions on their roads, they wanted a solution that would keep traffic moving while also slowing cars down. The city compared several products and chose Traffic Logix rubber speed cushions for their roads.
"We compared several products but we chose Traffic Logix for their reputation, pricing, and design," Douglas Park, Principal Transportation Planner for the city, said. "We like their speed cushions- they're not too aggressive and not too mild."
Doug was already familiar with the speed cushions as several other cities in the area including Irvine, CA and Laguna Niguel, CA have used the Traffic Logix interlocking rubber solutions.
After recently installing 32 speed cushions, the city of Anaheim received a request from another subdivision and has just ordered another 24 cushions to improve safety on their roads. The first 32 cushions have been installed on Calle Da Gama, Calle Diaz, and Solomon Drive. Calle Da Gama and Calle Diaz each received three rows of four speed cushions while Solomon Drive has two rows of four speed cushions.
The speed cushions are each 6' x 7' x 3" and are installed across the width of the road. Cars slow to around 15 mph to drive over them while emergency vehicles can straddle them without slowing. The city liked that the cushions can be removed for road resurfacing and reinstalled.
The remaining 24 cushions will be installed on Old Bridge Rd, where residents complain of high speeds and cut-through traffic.
Residents have already expressed that they liked the rubber speed cushions and the city is happy with them as well.
"They just hit the spot for us," said Mr. Park, "They slow cars down but let traffic keep flowing."