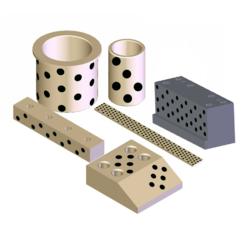 Going beyond 20% is pointless. It doesn't improve lubrication, but it incrementally weakens the part.
Coopersville, MI (PRWEB) September 26, 2012
SelfLube, a Western Michigan based manufacturer compiles test results from when they first opened its doors back in 1990, in response to customers recent questions about the amount of graphite embedded in its components. The company specializes in making bronze components that guide and control linear movement. When there is movement there must be lubrication present. It comes in two types: conventional grease and oil or self-lubrication using embedded graphite. Self-lubrication is the preferred choice since it is less messy and it is permanent and for this reason more and more shops are going to it.
In a self-lubricating component, the embedded graphite covers about 20% of the contact area. Customers often ask "why only 20% - isn't more better?" The short answer to this is no. To embed graphite you replace bronze thereby swapping stronger material with a weaker one (The modulus of elasticity of bronze is about 10 times that of graphite). Experience and testing have shown that 20% coverage provides adequate lubrication without significantly weakening the part. "Going beyond 20% is pointless. It doesn't improve lubrication, but it incrementally weakens the part," states CEO, Phil Allor.
SelfLube also receives a lot of questions about the size of the plugs which are 1/2 inch in diameter. "Wouldn't smaller plugs and more of them be better?" The answer, Allor states, is no. "Sure, we could go with a smaller graphite plug, but that would mean you would need more plugs to maintain the same percentage of coverage." By using smaller graphite plugs and putting more holes in the part, Allor continues, "It does no real good and it tends to weaken the part. Smaller plugs mean smaller diameter holes and smaller diameter holes tend to cause greater stress concentrations."
SelfLube components are used in die sets, metal stamping dies, molds and special machines. They are available in a broad range of inch and metric sizes, including NAAMS.
###
SelfLube is a US based manufacturer of mold and die components such as bushings, gibs, wear strips, parting line locks, lifter slides and related items - 8,000 standard part numbers in all, many of which are self-lubricating. The company sells direct to build shops, which results in both better pricing and better customer service. Its record for on time delivery is among the best in the industry.