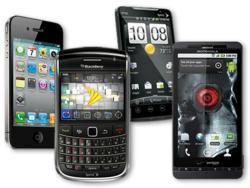 Just under 7 million pounds worth of mobile phones were lost during the Christmas period 2011 alone
(PRWEB UK) 25 September 2012
Just over 4 million pounds worth of mobile phones are lost in the world every day. Two thirds (66%) of the losses come between 9p.m. and 2a.m. Just under 7 million pounds worth of mobile phones were lost during the Christmas period 2011 alone with a further 8 million pounds worth of phones being lost during the 2012 new year.
Following the launch of the iPhone 5, Protect Your Bubble lists some of the more frequent places to lose a phone. In no particular order:
1 - Restaurants/Pubs/Coffee Houses: A booth is a common place to lose a phone, particularly if it slips into the crack or falls on a dark floor.
2 - Waiting Rooms: After sitting for a long time waiting to be seen, it is easy to settle in and become relaxed. Phones frequently go missing this way because it is often left behind when their name is called.
3 - On the top of a car: Put a phone on the top of a car to get keys out; get in the car and forget the phone. It can and does happen.
4 - Pocket: Those that wear jeans like to keep phones in their back pockets. Others also keep their phones in jacket pockets and shirt pockets. Losing a phone because it slips out is a very common way to lose it.
5 - No Pockets: It is very easy to put a mobile phone down in one place and forget where it was laid. Having to carry a phone in your hand also leads to lost phones.
6 - Purse: Many purses have dedicated pockets for phones, but the pockets are not typically dependable. Most purses are on the move and open and shut quite a bit, increasing the chances of loss.
7 - Couches: Couches are well known for being coin eaters, sweet eaters and even popcorn eaters. Mobile phones however can also quite easily be hidden underneath the cushions of a couch and easily forgotten about.
With the cheapest version starting at £529, the iPhone 5 carries a hefty price tag and having to buy a replacement is unthinkable. Protect Your Bubble offers iPhone 5 insurance that will protect it from theft, accidental damage, mechanical breakdown and even optional loss cover. Visit Protect your bubble for additional information, a free quote and see what else can be insured with Protect Your Bubble's gadget insurance.
Source: mashable.com/2012/04/15/lost-phone-infographic/
About Protect your bubble:
Protect your bubble is a specialist online gadget insurance provider, offering cost efficient insurance cover for iPhones, Smartphones, iPads, laptops, tablet PC's and much more. Quotes can be obtained for your gadgets via the following URLs:
Gadget Insurance: uk.protectyourbubble.com/gadget-insurance/
Mobile Phone Insurance: uk.protectyourbubble.com/gi-mobile-phone-insurance.html
iPhone Insurance: uk.protectyourbubble.com/ip-iphone-insurance.html
Find Protect your bubble UK on the following social networks:
Facebook: facebook.com/ProtectYourBubble
Twitter: twitter.com/protectyrbubble
YouTube: youtube.com/protectyourbubble