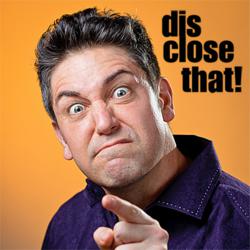 "Most bloggers and publishers may still not be following the FTC's Disclosure rules. Even for people who actually know about these guidelines, there's still great confusion over what they're supposed to disclose, and exactly how to do it."
Wheeling, IL (PRWEB) September 25, 2012
Social Media Week Chicago speaker Grant Crowell and attorney Sara Hawkins are presenting a live video webinar, "Disclose That! The Blogger's Guide to Disclosure Laws and Best Practices" Friday, September 28th at 11:30am (Central Time Zone) as a part of the worldwide Social Media Week conference. The event is being hosted by the online video conferencing and community platform, BigMarker.com.
This session will teach bloggers and other social media professionals about the most important things they should know about existing FTC disclosure guidelines and how they apply across all blogsites, social media networks, and online video. Attendees will also learn:

This event is free and open to the public. Attendees will also be able to use the chat room to submit their questions and comments for discussion. To reserve your spot, go to http://www.bigmarker.com/gcinteractive/disclosure.
WHY BLOGGERS MUST KNOW DISCLOSURE LAWS
"Disclosure is essential for today's online content professional." says Crowell. "The FTC recently announced plans to update their 2000 Dot Com Disclosure Guidelines, which marketers are required to disclose their material relationships with all content so as not to appear deceptive or misleading to consumers. But what most professionals don't know is that these guidelines go well beyond just disclosing endorsements. Now that the FTC is taking a stronger stance with greater enforcement, and both large and small companies are paying the price."
"Successful online content creators today all have a solid relationship with their audience that is built on trust." says Hawkins. "Even when the relationship may seem natural, it is always important to maintain their trust. Disclosure is paramount for bloggers, content marketers and other online professionals to continually build upon that trust relationship. Disclosure of business relationships further cements, in the audience's mind, that honesty and integrity are important and that the information being shared is valuable. Disclosure should not be seen as a negative, but rather as a key component to establishing oneself as a reliable and trustworthy source."
HOW THE FTC HAS LEFT BLOGGERS DAZED AND CONFUSED
"Many bloggers and other content creators do their best to disclose to their audiences when they have received money, gifts, or other special perks that supports the content they make available for others to enjoy for free. Despite these efforts, most bloggers and publishers may still not be following the FTC's disclosure rules." says Crowell. "Even for people who actually know about these guidelines, there's still great confusion over what they're supposed to disclose, and exactly how to do it. That's why we've decided the best way to start is with a basic education of what every blogger and online professional should know about these disclosure laws, in a way that's very easy to follow and apply."
ABOUT SPEAKER GRANT CROWELL
Grant Crowell is a trusted veteran content marketer, author, blogger, speaker and all-around Jack of many trades. He has worked in the online marketing industry since 1996 providing digital strategies and development to enterprises and entrepreneurs of all sizes, including video, search marketing/SEO, social media, usability, legal issues and ethics. He currently works a columnist for OnlineVideo.net and guest blogger covering the online video industry for many publications, including Mashable and Social Media Examiner. He is also the author of the recent report, "Pay Me To Trust You: An Online Marketer's Guide to The FTC's Revised Guidelines for Disclosures of Endorsements in Social Media." Grant also carries a traditional media background includes being a former talk-show host on AM radio, a professional newspaper cartoonist and illustrator, and a documentary film producer on first amendment issues in academia. (Read Grant Crowell's interview over at BigMarker.com
ABOUT SPEAKER SARA HAWKINS
Sara Hawkins is a lawyer, blogger, and all-around Jane of many trades. Sara has been a lawyer for over 15 years and provides legal guidance to entrepreneurs and businesses of all sizes regarding a variety of topics, including social media, digital rights and ethics, and is passionate about the law and making it understandable, accessible and fun. Sara currently runs her own personal blog, Saving For Someday, and provides legal consulting with bloggers, online content creators, marketers, PR agencies, and brands. She has spoken at several conferences about the legal issues relating to online content and is a featured legal-issues writer at Social Media Examiner.