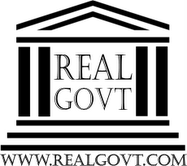 Connecting People and Government
Houston TX (PRWEB) September 25, 2012
Realgovt.com is a review site designed to give the public a new way to interact and a collective place to share experiences with government. The website will post reviews from the public that report and describe their experiences with government entities and employees at federal, state, and local levels.
RealGovt.com's goal is to bridge the huge disconnect between the American people and our government. The site provides people with an opportunity to voice concerns or share praise about government employees online for everyone to see. Feedback is not limited to complaints, but will encompass both negative and positive accounts of government interaction. Government employees or organizations that operate to the benefit of the public are highlighted as shining examples, whereas unhelpful, unlawful or overly bureaucratic government entities are exposed and held accountable to the people. Above all, RealGovt.com hopes to get people more involved in government and their communities.
"Most local and state government bodies are a representation of a very small percentage of people that live in those communities who vote and participate. This is because a majority of people walk away unsatisfied from their experiences with government and choose not to participate. By holding government employees accountable, we will get more of the public actively involved in government. This will give us government more representative of the communities we live in and a better government overall," said Larry Hurtado, Founder of RealGovt.com.
RealGovt.com is based out of Houston TX, and will feature over 450 cities once the site is finished. A crowd funding campaign through Indiegogo.com will soon be offering free advertising on local city pages or across the entire RealGovt.com site. These funds will help complete the website, with the aim of eventually providing many other services to the public.
For more information, visit http://www.RealGovt.com, e-mail admin (at) RealGovt (dot) com, or call (832) 755-8631.