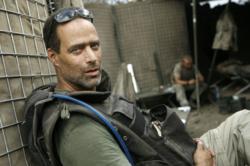 New York, NY (PRWEB) September 25, 2012
Carbon NYC hosted its popular Salon Dinner Series event on September 19th in the private dining room of Park Avenue Autumn (100 E 63rd Street). The event was host to Carbon Members who heard from world-renowned war journalist and best-selling author Sebastian Junger. Sebastian is the author of four New York Times bestselling books: The Perfect Storm, Fire, A Death In Belmont, and WAR. As a contributing editor to Vanity Fair and as a contributor to ABC News, he has covered major international news stories around the world, and has been awarded the National Magazine Award and an SAIS Novartis Prize for Journalism. He has also written for such magazines as Harper's, The New York Times Magazine, National Geographic Adventure, Outside and Men's Journal.
In 1997, Junger, then a first-time author, commanded the New York Times best seller list for over three years with The Perfect Storm, which later became a major motion picture from Warner Bros. His reporting on Afghanistan in 2000, profiling Northern Alliance leader Ahmed Shah Massoud, became the subject of the National Geographic documentary "Into the Forbidden Zone". In 2001, his experience reporting in Afghanistan led him to cover the war as a special correspondent for ABC News and Vanity Fair. In 2007 he went back, again for ABC News and Vanity Fair, as part of an ongoing series documenting a Platoon of US Soldiers in the deadly Korengal Valley during their last deployment. The professional result was twofold: his most recent book, WAR, and the Academy Award nominated documentary, Restrepo, which also won the 2010 Grand Jury Prize at the Sundance Film Festival and has since aired on the National Geographic Channel. Sebastian currently lives in New York City and on Cape Cod.
The Carbon Salon Speaker Series was founded in 2010 by George Kollitides, with the goal of bringing leaders from a variety of pursuits to share their insights and expertise on topics from business and international affairs to the arts and philanthropy. The Events take place in Manhattan restaurants, which unlike typical business networking events, are chosen for environments that create a relaxed but lively setting. The Series provides a forum for information sharing and discussion, where highly successful and interesting individuals can freely interact.
Past speakers include:

The Honorable Michael Chertoff, Former Secretary of Homeland Security
Ed Rensi, Former CEO McDonalds USA
General (Ret) U.S. Army George Joulwan, Former Supreme Allied Commander Europe
Bob Pittman, Founder MTV, former COO of Time Warner Inc.
Louie Psihoyos, Academy Award-Winning Documentary Filmmaker and Activist
Jan Strode, CEO of CEO Advisors, reputation management firm for top business executives
Jeff Bluestein, Former CEO of Harley-Davidson
Jack Devine, 32-year veteran of the CIA and CEO of The Arkin Group
Charlie Palmer, Master Chef and Hospitality Entrepreneur
Jeff Werbalowsky, Co-CEO and Senior Managing Director of Houlihan Lokey
Rich Pzena, CEO of Pzena Investment Management
Carbon is a New York based, invitation-only, social network of leaders in international business, technology, politics and the arts. Criteria for Membership are outstanding professional achievement, a strong character and a demonstrated passion for non-work related pursuits, including the arts, philanthropy, technology, sports and leisure. Carbon provides its Members unique programming, such as the Salon Speaker Series, social events in New York's most exclusive venues, regular poker tournaments and access to special offers from leading luxury brands. The foundation of Carbon Membership is integrity and a commitment to actively participate in events and support other members professionally and personally.
For inquiries, please contact:
Info (at) CarbonNYC (dot) com
Tel: 917-991-8243