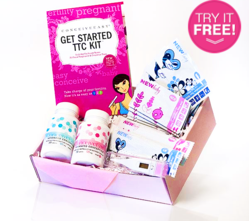 San Francisco, CA (PRWEB) September 28, 2012
When it comes to fans of TLC's reality television show "19 Kids And Counting," more is better. That's according to a new FertiBella ConceiveEasy.com poll which shows 83% of mom viewers surveyed think the Duggar Family will get pregnant again within the next year.
Moms also were quick to voice their strong opinions as to whether another addition to the Duggar Family was the right decision. Opinions ranged from, "If they can afford it, then why not?" - to "Is it really fair to the children they already have?" The fact remains, family sizes of 10 or more children were hardly considered unusual just a century ago, and some would argue that they were just as happy then, if not more so.
Regardless of public opinion, at 46 years old, is it even possible for Michelle Duggar to get pregnant without the use of fertility drugs for women? "Fertility naturally declines with age, accelerating in your 30s and by your 40s, couples have only a 1-5% chance each month of getting pregnant naturally. Tabloids commonly publish stories of Hollywood celebrities conceiving into their mid-40s, but in all likelihood it was accomplished through the help of donor eggs or aggressive fertility treatments," explains ConceiveEasy fertility specialist Prabha Sahgal.
"Many women don't realize that by the time they are born, they already have all the eggs they will ever have. As women age, so do their eggs and fertility peaks in your 20s. And it can be confusing for women who are trying to conceive and experiencing infertility issues when they see a famous celebrity making it look easy to get pregnant into their 40s. The fact is, it's rarely revealed that fertility treatments are being used in most cases, because it makes for better publicity to be seen as having conceived naturally."
● 20-29 years old: 20-25% chance any given month of conceiving naturally
● 30-34 years old: 15% chance any given month of conceiving naturally
● 35-39 years old: 10% chance any given month of conceiving naturally
● 40-44 years old: 5% chance any given month of conceiving naturally
● 45+ years old: 1% chance any given month of conceiving naturally
For women just starting on their journey to conceive or for those experiencing challenges with infertility, the ConceiveEasy® TTC Kit™ makes getting pregnant easy. The TTC Kit™ is an all-natural reproductive support system designed to dramatically increase chances of conception faster. The TTC Kit includes doctor-formulated and ObGyn recommended FertiBella ConceiveEasy, featuring a patented blend of ingredients clinically shown to increase the body's natural fertility from the very first use. Plus every TTC Kit includes 2 Free Bonus Gifts of 20 Pregnancy Tests (or Ovulation Tests) and a Digital Basal Body Thermometer & Getting Started TTC Guide (to help pinpoint your most fertile days). The new ConceiveEasy® TTC Kit™ can be ordered online without a prescription at http://www.conceiveeasy.com. And now, for a limited time you can try the TTC Kit free.
About ConceiveEasy
FertiBella ConceiveEasy is dedicated to helping women who are trying to conceive. 2 million women used doctor-formulated, ObGyn recommended ConceiveEasy last year to help get pregnant faster. Join them today. ConceiveEasy can help those trying to overcome infertility naturally or simply trying to conceive sooner. Moms-to-be can also go online and get free advice from fertility experts for all of their TTC, fertility or infertility questions.
For product questions, visit http://www.conceiveeasy.com or call toll-free 1-800-6-TTCKIT.
Survey Methodology
This survey was conducted online within the United States by ConceiveEasy Media. The data was collected between September 1 and September 14 among 1,262 women ages 18 and older, of whom 1,029 were identified as having familiarity with the Duggar Family, Michelle Duggar or TLC's reality television show "19 Kids and Counting." This online survey is not based on a probability sample and therefore no estimate of theoretical sampling error can be calculated.