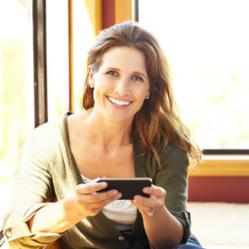 The easiest, most effective way to reach many Psychic Source customers is through mobile messaging.
Langhorne, PA (PRWEB) September 26, 2012
Psychics have been around for millennia. Mobile devices, barely two decades. Now the ancient spiritual art and ultra-modern technology are joining forces to make psychic readings more accessible to more people, more quickly and effectively than ever before.
Psychic Source, the most respected psychic service since 1989, is launching a mobile communications program that reaches customers with text messages and alerts on all mobile platforms quickly and effectively.
"Mobile messaging is the perfect way to reach our customers, to tell them when their favorite psychics are available, when we have special deals on readings, and for news and updates" explains Maryanne Fiedler, Marketing Director for Psychic Source. "And, of course, they can get a psychic reading right on their mobile device, which they carry around pretty much 24/7. It means anyone can get an online psychic reading anywhere, any time."
Utilizing the latest in mobile technology, Psychic Source is able to streamline its communications to a large and diverse customer base over multiple SMS, IVR, online and other channels.
"Everyone's going mobile," says Ms. Fiedler, "and as a provider of psychic services, we'd like to be at the forefront of the mobile trend, leveraging the full marketing and communications power of the growing mobile market and to better reach and serve our customers."
*****
About Psychic Source:
Founded in 1989, Psychic Source is the nation's oldest and most respected psychic service. Psychic Source's advisors are experts in astrology, horoscopes, numerology, tarot readings, clairvoyant readings, and many other psychic disciplines. Psychic Source believes in its community of authentic Psychics and stands behind the authentic psychic readings they deliver to clients. Visit them online at http://www.psychicsource.com.
For more information, contact:
Maryanne Fiedler, Marketing Director
maryanne(at)psychicsource.com
215-953-8568