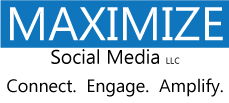 "Sites like Facebook give customers a platform to spread the word about retailers to dozens, hundreds and even thousands of friends," said Craig Collins, Sr. Vice President of Maximize Social Media LLC
Los Angeles, CA (PRWEB) September 24, 2012
Social media agency Maximize Social Media LLC announced its social media marketing program today, providing online marketing support to retail businesses nationwide. The agency will offer strategy development and complete day-to-day strategy execution on the top social media sites including Facebook, Twitter, and Pinterest.
"Retailers have historically generated business by traditional advertising such as Yellow Pages, newspapers and direct mail. Retailers now have an opportunity to get in front of customers where they spend the most time – social media. And sites like Facebook give customers a platform to spread the word about retailers to dozens, hundreds and even thousands of friends," said Craig Collins, Sr. Vice President of Maximize Social Media LLC.
The firm will also manage and optimize the Google Plus Local listings for retail businesses. By optimizing this listing, businesses have an opportunity to secure a position on the top of Google page one search results where consumers are actively seeking their services.
Maximize Social Media provides full social media management services in over 50 different verticals. The agency will fully integrate all aspects of social media for businesses that will find it more affordable to outsource the management rather than hire additional staff. Maximize provides both ad management, which will allow the businesses to target specific demographics, as well as daily engagement by a dedicated social media manager.
Retailers as well as their advertising agencies are invited to contact Maximize Social Media for a no obligation consultation at:
http://maximizesocialmedia.com/strategysession
About Maximize Social Media LLC
Maximize Social Media (http://maximizesocialmedia.com) is a leading provider of social media management services for clients in over 50 different verticals. With offices in Florida and Los Angeles, Maximize provides social media consulting and Facebook advertising management for clients in English speaking countries such as the US, Canada, and Australia. The company also features social media management outsourcing for busy social media mangers looking for additional assistance on a white label basis.