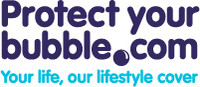 (PRWEB UK) 26 September 2012
With that in mind, Protect Your Bubble offers these tips to protect the new iPhone 5. In no particular order:

Buy a decent case: Buying a cheap case or cover for a gadget valued at £529 minimum does not make sense. Go ahead and splurge for a case that not only looks good but protects the iPhone 5 very well. A deep-face case will help prevent cracked screens and potential scratches too. The consumer and phone will be happier in the long run for it.
Screen protectors: Apple's phones look great and work great. Removing the protective plastic cover is bittersweet, so protect it with another screen protector. Eventually, the novelty will wane and the phone can be damaged. The slender appearance is something to stare at in awe, but the protection is priceless if and when the phone is dropped on the floor.
Give the phone a home: Regardless of where consumers may be, most phones are within a few meters of them at all times. At home, an iPhone 5 needs a dedicated place to be when not being used. A docking or charging station is ideal. This will keep the phone from being knocked on the ground, getting wet or scratched.
Purchase insurance: Replacement phones are not cheap; insurance is however both cheap and provides financial security. Protect Your Bubble insures iPhones and other gadgets for a fraction of the cost to replace them. Better still, the iPhone 5 will be covered against accidental damage and any form of mechanical breakdown that is not covered by the manufacturer. Dropped in the bath, spilt coffee or even a cracked screen? Protect Your Bubble takes the worry out and will even replace it if it cannot be repaired.
Water and phones do not mix: While most love the beaches, lakes and rivers, iPhones and phones in general do not. Get a waterproof case if the phone has to be near water. In the office or at home, keep your iPhone well away from drinks, tea or coffee as it's the last thing you want to spill liquid on.
Visit Protect your bubble for additional information and iPhone5 insurance.
About Protect Your Bubble
Backed by a Fortune 500 company, Protect your bubble is a specialist gadget insurer that also offers a wide range of gadget insurance products, iPhone insurance, Smartphone insurance, iPad insurance, tablet insurance and laptop insurance; all cheap affordable prices.
Related Links:
Mobile Phone Insurance - uk.protectyourbubble.com/gi-mobile-phone-insurance.html
iPhone Insurance - uk.protectyourbubble.com/ip-iphone-insurance.html
iPhone 4s Insurance - uk.protectyourbubble.com/iphone-4-insurance.html
Find Us On:
Facebook: facebook.com/ProtectYourBubble
Twitter: twitter.com/#!/protectyrbubble
YouTube: youtube.com/user/protectyourbubble