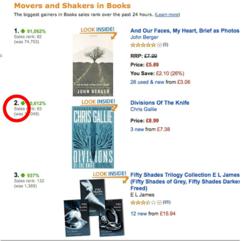 We Sell Books
London (PRWEB UK) 26 September 2012
Never a company to stand still, Mirador Publishing have improved their systems and now offer a choice of publishing solutions for authors, ranging from a totally free self publishing option through to the top Book Boost package designed to give a book the best possible chance of being noticed in the overcrowded bookshelves of the world.
"Today's marketplace is changing almost day by day," said Sarah Luddington, Mirador's Commissioning Editor. "Many companies are struggling to keep up with the developments. It was only a few years ago that self publishing was considered slightly distasteful and only for those who couldn't find a 'Proper' publisher. Now we have traditional publishers offering self publishing contracts and literary agents offering to publish client's books for a fee. We at Mirador have always been at the forefront of the new wave in publishing and these changes will move us forward once more."
The new options are designed to give even more control back to the author. For those who have the confidence to 'go it alone' there is the Free Self Publish option which allows the author full editorial control, or for those who need maximum help and guidance there is the Full Partnership Publishing option where Mirador financially help the author and provide high level market support.
"Authors these days want more control over their books," continued Sarah. "Gone are the days when authors were happy to be pushed aside by publishers and literary agents who all want to manipulate the book for their own purposes. Today the author wants control over the appearance and presentation of their novel. They want more autonomy in how it is marketed and above all, they want a fairer share of the profits."
In recent times a number of self published novels have made the big time, including the latest sensation, Fifty Shades of Grey, which started life with a very small indie press. All of this is set to disturb the traditional publishing industry even further as they struggle to turn around their huge organisations in the way in which the leaner and tighter companies like Mirador are able to achieve.
Mirador put their success down to their passion for selling books, with many of their titles topping the Amazon charts and their authors finding warm welcomes at book signing events. "We believe in our authors and we believe in their books," said Sarah. "The measure of our success is the fact that our books sell."
Mirador Publishing can be contacted via their website at http://www.miradorpublishing.com by email sarah(at)miradorpublishing(dot)com or by telephone on +44 (0)845 519 7471