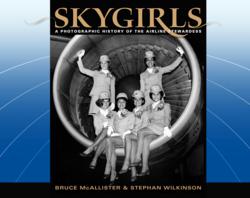 (PRWEB) September 26, 2012
"Skygirls" is a large format, hard cover, photos-and-text tribute to the lives, careers and legacy of the women who once were a hugely admired and envied part of air travel, in the days before civil rights legislation and important changes in societal standards ended an era of what many will frankly admit was one of the most sexist careers a young woman could pursue.
Yet pursue it they did, despite low pay, long hours and leering passengers. Just as boys wanted to become cops and firemen, teenage girls dreamed of a career in the sky: travel, adventure, handsome pilots and marriageable passengers were only some of the attractions of the airline business. Stiff physical standards, a prohibition against marriage and unspoken but unconscionable demands that the women working the cabin be somewhere between flirty and available were the downside. "They were America's Vestal Virgins," said one airline executive.
Featuring more than 250 color and black-and-white photographs documenting the early days of airline travel (when stewardesses had to be registered nurses) as well as the glory days of the trans-ocean flying boats and the first Postwar intercontinental luxury airliners, the book also follows both American and foreign stewardesses through the jet-setting "Coffee, Tea or Me?" days of the Swinging Sixties and hedonistic Seventies.
The job necessarily became as homogenized as its new title―"flight attendant"―but even today, there are foreign carriers who operate far from the enlightened social standards that have so changed the career, for better or worse, in the U. S. and Europe. The book visits some of the mammoth double-deck Airbus 380s and long-range versions of the Boeing 747 that still carry what can only be called stewardesses, cut from the classic cloth of femininity plus a frank flavoring of come-hither allure.
Authors Bruce McAllister and Stephan Wilkinson are both commercial-licensed pilots with over 70 years of flying and 8,000 hours of flight time logged between them, both of them holding instrument and multi-engine ratings. McAllister has been a freelance photographer since 1962 and today lives in Boulder, Colorado, where he used to employ the same mountain-piloting skills he utilized as a photographer in the Yukon and Alaska McAllister has also written and illustrated a series of photographic aviation-history books: DC-3, Wings Above the Arctic, Wings Over the Alaska Highway, Wings Over Denali, Wings Over the Yukon, Wings Across America and Vagabonds of the Sky.
Stephan Wilkinson, the former Executive Editor of Flying magazine and Editor-in-Chief of Car and Driver, is today a freelance military- and aviation-history writer. He is also a longtime contributing editor of Conde Nast Traveler and today writes for Aviation History, Military History and Air & Space Smithsonian magazines. Wilkinson is the author of the memoir The Gold-Plated Porsche: How I Spent a Small Fortune on a Used Car, and Other Misadventures as well as the essay collection Man and Machine.
###
ISBN: 978-0-615-53937-9
Hard Cover, 8.5" X 11" oblong, 232 Pages, 250 Color & B&W Photographs. Retail Price: $49.95
Published by Roundup Press, Boulder, CO Distributed by Independent Publisher Group, Chicago
http://www.wingsalcan.com Publication date: September, 2012
Contact: Bruce McAllister mcax (at) aol (dot) com
or at (303) 444-9484