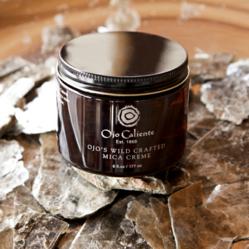 "It was our intention, by using native plants indigenous to the area, to capture a 'sense of place' that is unique to Ojo and the high desert of Northern New Mexico."--Jen Scott, owner
Ojo Caliente, NM (PRWEB) September 25, 2012
Ojo Caliente Mineral Springs Resort & Spa has captured the natural, healing elements of the high desert in their new, organic signature body care line. The shining star of the product line is the one-of-a-kind, sparkling Mica Creme that uses the glittery mineral harvested directly from the Mica Caves at Ojo Caliente. Mica crystals were used as adornment by Native Americans of the area for sacred ceremonies, as well as incorporated into their building materials. The mica mineral is also known for its regenerative properties because it reflects light while adding brightness and vigor to the skin. The Ojo Caliente Signature Body Care products are now for sale in the Ojo Gift Shop and web store.
Just north of Santa Fe, the Ojo Caliente Mineral Springs Resort & Spa is nestled in a valley located below the ancient ruins of Posi or Poseuinge, "the village at the place of the green bubbling hot springs," which was inhabited by ancestors of today's Native American Tewa Tribes. The sacred waters anchored Ojo as a gathering place and a source of healing for hundreds, even thousands of years.
"The Ojo Signature Body Care line was developed to complement the many natural elements that are part of Ojo, including the sacred waters and treasured land," said Jen Scott, owner. "It was our intention, by using native plants indigenous to the area, to capture a 'sense of place' that is unique to Ojo and the high desert of Northern New Mexico."
The nine products included in the Ojo Signature Body Care line have been developed with a Santa Fe master herbalist. The two custom blended scents, Desert Rain and Desert Sage, are derived from pure essential oils and wild-crafted herbs and plants indigenous to Northern New Mexico. All of the products are paraben-free, sulfate-free, 74%-93% organic, not tested on animals, and are free of toxic and synthetic chemical ingredients. The body creams are particularly beneficial for dry skin. The amber retail bottles are made of PET, an environmentally and health-friendly inert plastic. The in-room amenities are delivered in stylish dispensers to avoid contributing disposable bottles to the landfill. The fresh, earthy Ojo line harnesses the healing properties of these high desert ingredients, and allows you to experience a little bit of Ojo Caliente wherever you are.
The carefully formulated ingredients include yucca root, in Ojo's wild crafted shampoo, which has been used in the Southwest for centuries for its cleansing properties. Vitamins B & E enhance conditioning, while calendula softens your hair. The essential oils in the Desert Sage formula include pine needle for its purifying and decongestant qualities, and desert sage for its cleansing and antibacterial properties. The oils used in the Desert Rain Body Creme include cedarwood for its antiseptic and astringent qualities, geranium as an immune-stimulating tonic, and lavender for its antiviral and sedative qualities.
A full list of ingredients for each product can be found in the Ojo online store. The Desert Rain and Desert Sage products range in price from $17 to $23, and $40 for the Mica Creme. Customers who purchase all four products including the shampoo, conditioner, body wash and body creme of either scent receive a 10% discount on their order.
The Mica Creme and full line Ojo Signature Body Care products make for unique holiday gifts. Many guests opt for an Ojo Gift Card to give a little or a lot of Ojo's TLC. Gift Cards can be used for everything at Ojo including Springs' entry, private pools, lodging, spa services, in the restaurant and in the gift shop. Gift Cards can be purchased in the web store, by phone or in person at the resort.
Ojo Caliente's Recent Accolades:
2012 Certificate of Excellence Award from Trip Advisor
One of the Best Desert Getaway – Outside Magazine Online
Top 10 Resort Spas – Away.com
Top 5 Favorite Mineral Springs Spas & Top 5 Most Affordable Spas – Spa Magazine
Top 10 Favorite Mineral Springs Spas in the World – SpaFinder Magazine
12 Awe-Inspiring Resort Pools by New Beauty Magazine
The secluded sanctuary that is Ojo Caliente is tucked into a cottonwood dotted river valley just north of Santa Fe and just south of Taos, NM. Opened in 1868, Ojo is one of the oldest natural health resorts in the United States, and the only hot springs in the world with four unique, sulfur-free healing mineral waters: iron, arsenic, soda and lithia. Deemed sacred by the Native Pueblo tribes of Northern New Mexico, Ojo has been a gathering place for diverse groups for thousands of years.
Ojo is both historic and fresh with eclectic charm in a relaxed and tranquil environment. It boasts a rejuvenating full-service spa, utilizing a range of Native American- and East Indian-inspired therapies, which incorporate wild crafted and indigenous herbs, flowers and essential oils. The resort consists of 48 beautifully appointed New Mexico style lodging units, including enchanting suites, charming cottages, the Historic Hotel and private homes. The Artesian Restaurant serves up fresh, inventive, locally-influenced foods, as well as international dishes. Lighter fare, plus an extensive selection of local and imported wine and beer are available in the Wine Bar.
The resort property consists of 1100 acres for hiking, biking and bird watching, and is adjacent to thousands of acres of national forest and public land. Yoga classes are offered seven days a week.
For more information, please contact:
Jennifer Padilla
JLH Media
505 577 1347
jpadilla (at) jlhmedia (dot) com