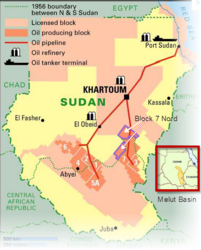 We consider our Company to be a strategic partner and are proud to contribute to Sudan's continued economic growth and social development through our strategic long term investment."
Vancouver, BC (PRWEB) September 25, 2012
(Financial Press) - With a number of recent exciting Oil discoveries in Africa such as Lukas Lundin's Africa Oil, many people are aggressively trying to acquire and develop new fields. Through a Memorandum of Understanding announced on September 23, 2012, Canadian-based junior, Emperor Oil Ltd. is earning 85% of a 50% interest in Block 7, a large, late-stage oil development project in Sudan.
Emperor Oil has partnered with privately-owned State Petroleum Overseas Inc. (which will hold the remaining 15% of the 50% split), and the state-owned oil giant SUDAPET (which holds 50% of the entire project), to develop three previously discovered oil fields. The move marks the first entry of a Canadian company in the country since Talisman Energy developed its Sudanese interests in 1998.
All parties seem pleased with the arrangement.
"We look forward to working with Emperor to fully develop the significant oil resource located in Sudan's Block 7," says Lutfur Khan, Chairman of State.
The move marks a significant expansion for Emperor Oil. The Company is currently partnered with a senior developer on a project in Turkey that targets natural gas. By capitalizing on both the high prices for Turkish natural gas (where the company is seeing over $10/Mcf), and the high international oil price, Emperor seems to be looking to become a more balanced contender on the global petroleum scene.
"We have been analyzing a number of projects over the past year and this agreement is a significant step towards Emperor's goal of becoming an international oil producer. We look forward to expanding our relationship with Sudan and to developing our global oil production." says Andrew McCarthy, President and CEO of Emperor. "We consider our Company to be a strategic partner and are proud to contribute to Sudan's continued economic growth and social development through our strategic long term investment." Emperor won't be wasting any time getting this property up to production standards.
Block 7 is a concession on which a previous operator incurred several tens of millions of dollars in expenditures; including 6071 km of 2D seismic, 430 km of 3D seismic and 3 discovery wells. Emperor plans to achieve production by the first quarter 2013. The Company will initially ship the oil by truck while completing a pipeline tie-in to an existing central processing facility located on the concession which is connected to an export pipeline to Port Sudan. In addition to the existing discoveries, the extensive 3d and 2d seismic coverage has identified a number of additional development and exploration targets.
Payments will be staggered over pertinent events on the block going forward. In addition to the combined $400,000 initial cash payment and shares, $1,000,000 will be due upon the execution of an Exploration and Production Sharing Agreement ("EPSA") with the Republic of Sudan. Another $750,000 is due upon spudding of the first well. Other milestones includes $750,000 payable on the first day of the month following the month of declaration of commercial production as per the EPSA, and another $750,000 on the first day of the month following the month in which Block 7 exceeds 2,000 barrels of oil equivalent ("BOE").
Emperor Oil has announced a non-brokered private placement of 40,000,000 units at a price of $0.50 per Unit for gross proceeds of up to $20,000,000 which will be used to fulfill development and opportunity costs. Further stipulations of the offering are available in the company's latest news release; including a half warrant at a price of $0.75 for a period of six months from the closing of the Offering. As of Friday's closing price, the company has a market cap of nearly $110 million.
Almost ten years have passed since Talisman left the country, and divested its interests in the Sudan to ONGC Videsh out of India. A lot has changed since the Canadian major's departure. In July of 2011, the country saw the southern region split away and form the newly independent state of South Sudan, and with it taking 80% of the formerly unified nation's oil revenues with it. On today's maps, Talisman's interests in the Heglig region would fall within the newly minted country of South Sudan.
With 80% of its revenues exiting with the South Sudan separation, the remaining country of Sudan has opened its doors to the world through actions such as the Emperor deal, and through an auction that took place earlier this year in July. In an effort to recoup some of the lost revenues, Blocks that received considerable attention, including Block 7 were put back into play for foreign investors to develop.
The smaller footprint in Sudan, and a cooler geopolitical climate, along with the previously acquired data already in place on Block 7, and a potential oversubscribed private placement on the table, Emperor should have the tools and resources necessary to deal with the challenges ahead. It appears that the acquisition was well worth the risk moving forward, and it'll be only a matter of time before production begins again on Block 7, officially linking Canadian/Sudanese business partnerships once again.
For more information on Emperor Oil Ltd. please contact 403 695 1794 or info (at) emperoroil (dot) com
Legal Disclaimer/Disclosure: A fee has been paid for the production and distribution of this Report. This document is not and should not be construed as an offer to sell or the solicitation of an offer to purchase or subscribe for any investment. No information in this article should be construed as individualized investment advice. A licensed financial advisor should be consulted prior to making any investment decision. Financial Press makes no guarantee, representation or warranty and accepts no responsibility or liability as to its accuracy or completeness. Expressions of opinion are those of the author's only and are subject to change without notice. Financial Press assumes no warranty, liability or guarantee for the current relevance, correctness or completeness of any information provided within this article and will not be held liable for the consequence of reliance upon any opinion or statement contained herein or any omission. Furthermore, we assume no liability for any direct or indirect loss or damage or, in particular, for lost profit, which you may incur as a result of the use and existence of the information, provided within this article.