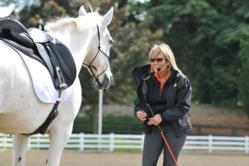 London (PRWEB UK) 26 September 2012
Creative marketing company, Graphic Evidence, has planned and executed a wide-ranging PR campaign for HorseWorldLive, which utilises all media channels. The creative marketing company's graphic designers were also responsible for their effective advert design that has gained the show some excellent exposure, increased recognition and boosted ticket sales.
The increased exposure has been effective in spreading the word of the new, exciting show within equestrianism. New show attractions and riders have developed rapidly, so much so that world renowned horsemanship expert, Linda Parelli, was keen to be recruited as part of the star studded show line up. HorseWorldLive is the only European show that Linda will attend for the duration of 2012.
Linda Parelli will perform her popular demonstration 'Horsenality' where Linda explains her in-depth knowledge of the equestrian psyche. Within this demo, Linda shows how particular equestrian characteristics can be attributed to a horse personality type, hence the coined term 'Horsenality.' Linda will appear in the World Arena, other performers and show attractions include William Fox Pitt, Laura Bechtolsheimer, William and Pippa Funnell, Emile Faurie, Natasha Baker, Sharon Hunt, Oliver Townened, Geoff Billington and Geoff Luckett.
HorseWorldLive is held at London ExCeL, 16-18 November to buy tickets please visit http://www.horseworldlive.com
To find out more about Graphic Evidence's extensive design, PR, marketing and web design company services or to view their portfolio, please visit http://www.graphicevidence.com