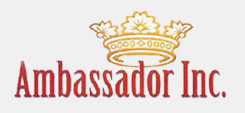 We have seen a dramatic improvement in the appearance of our private and public facilities since Ambassador began its maintenance program.
Fargo, N.D. (PRWEB) September 26, 2012
Ambassador Cleaning, Inc., which offers office cleaning services, industrial cleaning services, residential cleaning services, and building maintenance services to clients in the Fargo, N.D. area, has recently received several positive referrals from it's clients for its cleaning service contracts.
Warner and Company Insurance, with offices in downtown Fargo, was founded in 1911 and is currently one of the largest independently-owned full-service agencies in the Midwest. The firm has resident agents' licenses in 35 states across the country, and includes services such as business insurance, personal insurance, and health/life insurance. Dean Thompson, building manager of Warner and Company Insurance in Fargo, has witnessed the quality of Ambassador Cleaning's office cleaning services for the past year that they've contracted their cleaning needs out to the company. "Since [we started using Ambassador Cleaning], the cleanliness and appearance of our office has improved, thanks to Ambassador," Thompson said.
Another customer who has been impressed with Ambassador Cleaning's industrial cleaning services and building maintenance services is Mike Russell, the General Manager of Timber Lodge Steakhouse in Fargo. Timber Lodge steakhouse is one of the largest dining facilities in Fargo-Moorhead, and its location (at the intersection of 13th Ave. and I29) is one of the busiest areas in the region. The restaurant gets a lot of traffic in and out of its doors each day, and needs a cleaning company that is up for the challenge of maintaining their area and keeping it sanitary for employees and guests. They have been clients of Ambassador Cleaning since the company first started. Russell notes, "we have seen a dramatic improvement in the appearance of our private and public facilities since Ambassador began its maintenance program."
Ambassador Cleaning provides specialized cleaning, detailing, janitorial, and daily or nightly maintenance services for companies of all sizes. Ambassador Cleaning offers cleaning services throughout the Fargo-Moorhead area. The company places high esteem in practicing respect and integrity with all of its clients, employees, and neighbors, while maintaining a customer focus through which they continuously strive to maximize internal and external customer loyalty and make the best efforts to understand and appreciate the customer's needs in every situation.
For reliable, quality cleaning services, call Ambassador Cleaning. They will take care of any office cleaning, industrial cleaning, residential cleaning, building maintenance, carpet cleaning, and grout cleaning needs that you have. They can help with any project, no matter how big or how small, and will be there any time of the day or night that you need them.