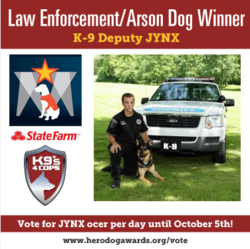 "We at K9s4COPs are truly humbled and honored by being selected as Jynx's Charity Partner." -- Kristi Schiller, Founder and Board Chairman
Houston, TX (PRWEB) September 26, 2012
Created by the American Humane Association to celebrate the devoted relationship between dogs and people, the Hero Dog Awards honor dogs that do extraordinary things, from saving lives on the battlefield to lending sight or hearing to a human companion to serving their communities as K9 police officers. There are eight categories of Hero Dogs: law enforcement/arson dogs, service dogs, therapy dogs, military dogs, guide dogs, search and rescue dogs, hearing dogs, and emerging hero dogs - the category for "ordinary" dogs. The award presentation takes place at the Beverly Hilton Hotel on Saturday, October 6, 2012, with voting open through Friday, October 5, 2012.
One of this year's nominees is a Jynx, a retired police dog from Pennsylvania. Jynx was entered into the contest by Alecia Pagerly, widow of Jynx's partner and handler, Berks County Sheriff's Deputy Kyle Pagerly. During the delivery of a routine warrant with federal agents, an armed assailant killed Pagerly in the line of duty. Although Deputy Pagerly did not survive the ambush, the lives of several other officers were saved due to Jynx's efforts. During Deputy Pagerly's funeral service, Jynx was awarded the Medal of Honor and was retired to Mrs. Pagerly. One of the entry requirements for the competition is the selection of a Charity Partner; Alecia selected Houston-based K9s4COPs, Inc.
Founded in 2010, K9s4COPs' mission is to purchase and place highly trained K-9s with thoroughly screened law enforcement agencies across the United States that are facing budget cuts. Financial constraints make it virtually impossible for them to purchase K-9 officers at an average cost between $10,000 and $15,000 each. K9s4COPs continues to be the only nonprofit organization of its kind in the United States. To date, K9s4Cops has placed 23 K-9s in Texas and across the US, and applications continue to pour in. In Harris County alone, these K-9 officers are responsible for the seizure of narcotics valued over $7.5 million, the capture of 34 criminal suspects and the confiscation of 13 firearms and $1,068,169.30 in cash.
K9s4COPs has been awarded $5,000 for being selected as one of the eight finalists, and stands to win an additional $10,000 if Jynx is selected as the 2012 Hero Dog, which would allow K9s4COPs to put more K9s on the streets. For more information on K9s4COPs, view the video that tells our story.
For more information on the Hero Dog Awards, please visit http://www.herodogawards.org.