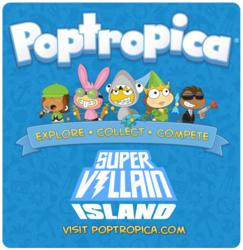 Now on 'Super Villain Island,' familiar – and feared – villains who players have met on other quests present the biggest challenge yet. But I know that Poptropicans are up to this new test.
BOSTON, Mass. (PRWEB) September 26, 2012
Poptropica is celebrating its fifth birthday this month with the launch of its 30th Island. Available tomorrow to Poptropica Members under Early Access, "Super Villain Island" takes Poptropicans to a world where they will enter the dreams of four of the virtual world's most infamous villains with the goal of changing their twisted thoughts and saving the world from evil. In addition to Early Access, Poptropica Members will receive special Members-only items and access to a bonus quest. Non-members will have access to a limited portion of the Island before the public launch on Oct. 18, 2012.
On "Super Villain Island," players travel to deep inside a top-secret prison, where four of Poptropica's most infamous villains float in suspended animation. The mission is to infiltrate their minds and extract the sources of their evil. Entering the dreams – or nightmares – of these bad guys is an abstract and strange journey to the heart of darkness, but players must take the risk to keep the world safe from these villains.
"In the past five years, the world of Poptropica has grown to 30 Islands, where our hundreds of millions of players face unique challenges and adventures," said Jess M. Brallier, publisher of Poptropica. "Now on 'Super Villain Island,' familiar – and feared – villains who players have met on other quests present the biggest challenge yet. But I know that Poptropicans are up to this new test."
Poptropica Members will also have access to a "Super Villain Island" bonus quest, where they will discover another villain who stirs in his slumber. They will be faced with entering the dream machine once more, where they will visit a nightmarish version of one of the most popular Poptropica Islands. To help them survive and conquer these dark-world challenges, Poptropica Members will get special gear, including a Night Hare costume, Sleeping Powder power and Evil Henchmen item. The Night Hare costume is only available during Early Access. Parents can buy Poptropica Memberships for their kids in one-, three- or six-month increments.
Named as one of TIME magazine's Top 50 websites of 2011, Poptropica has been visited by more than 245 million kids worldwide since its launch in 2007. More than 60 million kids from across the globe have connected safely and securely online with the virtual world's social networking offering, Friends. Players come from more than 130 different countries and have their web browsers set to more than 100 different languages, ranging from Spanish and Sanskrit to Vietnamese and Croatian. All Poptropica Islands are free to play, and each represents a unique theme and challenge.
Kids can stay up to date on news about upcoming new Islands and other exciting developments in the world of Poptropica on the official blog at http://blog.poptropica.com/.
About Poptropica (http://www.poptropica.com)
Poptropica is a virtual world in which kids explore and play in complete safety. Every month, millions of kids from around the world are entertained and informed by Poptropica's engaging quests, stories and games.
Kids create a "Poptropican" character to travel the many Islands of Poptropica and use gaming literacy to enjoy a narrative that is often rooted in factual history. Problem-solving skills are honed as kids discover and solve mysteries unique to each Island.
There are always new areas to explore in this ever-expanding world where kids can collect objects, read digital books and comics, watch movies, and compete in head-to-head competition. Parents can always trust that their children are playing – and learning – in a safe online environment.
Poptropica is published by Family Education Network, a part of Pearson, the education, services and technology company. Pearson's other primary operations include the Financial Times Group and the Penguin Group.