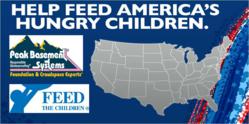 Colorado Springs, CO (PRWEB) September 26, 2012
Peak Basement Systems just entered into a business benefactor relationship with 1460 AM KZNT and Feed the Children to provide an entire week's worth of meals to 100 local hungry children and their families.
Feed The Children's Americans Feeding Americans Caravan has already reached more than 400,000 families in communities hit hard by the economic downturn. But many of our neighbors are still forced to choose between feeding their families or paying their utility bills.
That's why Feed The Children is continuing its caravan of semi tractor-trailers full of nutritious food and essentials to families who are finding it difficult to cope with the rising costs of food, fuel and health care.
Peak took the opportunity to help keep the Caravan rolling by providing food to American families suffering from financial struggles.
Peak Basement Systems' donation will feed 100 children and their families for an entire week!
Founded in 1979, Feed The Children is consistently ranked as one of the largest international charities in the U.S., based on private, non-government support. Feed The Children is an international, nonprofit relief organization with headquarters in Oklahoma City, Oklahoma, that delivers food, medicine, clothing and other necessities to individuals, children and families who lack these essentials due to famine, war, poverty or natural disasters. In FY 2011, Feed The Children distributed more than 104 million pounds of food and other essentials to children and their families in all 50 states and internationally.
Founded in 2000, Peak Basement Systems is a Colorado Springs-based residential foundation repair, waterproofing, and crawlspace encapsulation service company. As a part of an international network of over 300 of the best basement and foundation contractors with the best products and warranties. Peak has consistently maintained an A+ rating with the Better Business Bureau of Southern Colorado, receiving their coveted Excellence in Customer Service Award in 2008. They have never received a complaint and have consistently been recognized as customer-centered local business. Paul Sutton, Owner and General Manager, has created a dynamic company that utilizes the latest technology to bring customers the best, longest lasting engineered solutions for their home repair needs.