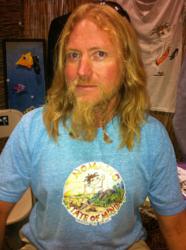 Fayetteville, NC (PRWEB) September 25, 2012
What do sandals have to do with art? or tshirts? The answer is everything for Nomadic State of Mind, a grassroots sandal manufacturer based in North Carolina. Their unique, handmade sandals have always been a work of wearable art, but now they are also teaming up with various artists for a new line of eco friendly t-shirts featuring, among other things, their favorite nomadic, sandal wearing character, Nomo.
The first artist to be featured on this new line of shirts that will be released sometime next week is Bean Spence, an artist from Tampa, FL; and long time friend of Nomadic founder Chris Anderson. Bean Spence has been focusing his passion on non traditional 3D and blacklight sensitive art. His work has been seen at numerous music festivals and trade shows, such as Surf Expo, and truly stands out to a crowd.
Nomadic is excited to bring in an artist with such a talent for unique pieces, but also one that shares a similar outlook in life, music and art. Spence regularly makes use of recycled materials in his work, something that fits right in line with what Nomadic strives for with their No Scraps Left Behind program. It is important to Chris Anderson, owner/founder, of Nomadic State of Mind to feature a variety of products that speak to many people, but that also share similar values and he is excited to be a part of this synergistic partnership knowing Spence does just that.
About Nomadic State of Mind
Nomadic State of Mind was founded over ten years ago and is based in North Carolina. Manufacturing takes place both in Florida and in Nicaragua where the company has helped support a small community for the past eight years. Nomadic has always believed in positive contributions to the world around them and is committed to remaining true to their roots. For more information or additional art work please contact Chris Anderson or Shea McNally at 877-666-2376 or http://www.nomadicstate.com.