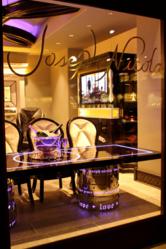 The must-have bag of the century
Los Angeles, CA (PRWEB) September 25, 2012
Joseph Nicola, Beverly Hills Announced Tuesday plans to unveil what it calls the Perfect Handbag. The Joseph Nicola line of Handbags which has been under wraps for almost two years now is nearing launch for this fall.
Careful to keep the design under wraps until it's expected unveiling this November in New York and LA, Joseph offered few details of the specifics, saying only "We are extremely excited about creating something so unique yet so classic."
"We've kept this project as top secret for as long as we could", says Joseph and adds "when when we embarked on the idea of creating luxury handbags I had a clear vision of what the perfect handbag would be and wanted to deliver exactly that, the Perfect Handbag, It's timeless elegance and amazing design will certainly turn heads and be the must-have bag of the century."
Joseph says, "we set out on a plan that began with the highest standards in the fundamentals of Design, Form, Function and Quality that when aligned with the Artistry would created the Perfect Handbag. We've taken time to perfect the design and have paid close attention to the details and features, some of which are basic, like using the finest leather, using 24k Gold, Sterling Silver and Polished Nickle plating on our Custom Designed Hardware, Numbering each piece and never ever, ever using zippers. The rest you'll have to wait and see, but expect some real surprises in the design and presentation, Oh yeah, did I mention Made in New York?".
The Joseph Nicola Gallery at the Montage Hotel and Resort in Beverly Hills, located at 216 North Beverly Dr. represents a bold approach to design and fashion that redefine luxury.
For more information or to schedule an interview contact Jessica Schroeder 847-844-9500