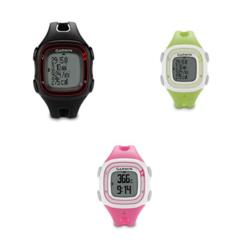 We just wanted to create a simple overview that people can use to select products but, as always, the best thing is to call us
Bozeman, MT (PRWEB) September 24, 2012
The Heart Rate Watch Company blog has published its Garmin fitness products comparison for 2012 to help consumers determine which Garmin product is best for them.
"People get so confused about which products work for running, cycling and more, plus which accessories work with a given product," says Rusty Squire, President of the Heart Rate Watch Company. He adds, "We just wanted to create a simple overview that people can use to select products but, as always, the best thing is to call us at 866-586-7129 for a personal consultation."
WHY EXPERTISE MATTERS
"We've been testing and using Garmin heart rate monitors and GPS watches for nearly half a decade," says Squire. He continues, "Most of our competition just sell these products, they never use them, they don't use real athletes to consult with customers and often they don't even have a phone number; it makes a huge difference in customer satisfaction."
GARMIN PRODUCTS REVIEWED
The blog takes a look at the Garmin FR70, Garmin Forerunner 10, Garmin 110, Forerunner 210, Garmin 410, the Garmin Forerunner 610 touchscreen GPS and the Garmin 910XT triathlon watch. "It is a pretty broad brush overview of all the Garmin watches that are offered as part of the 2012 fitness line up and makes a good Christmas selection tool," says Squire.
WHY HAVING PERSONAL CONSULTATION AVOIDS SELECTION MISTAKES
Talking to a real athlete who uses and tests the product makes all the difference in the world when buying sophisticated fitness devices like GPS watches. "We hardly ever get returns from people that call us, while those that go it alone are nearly 5 times more likely to cost themselves a return," says Squire. He adds, "This is not like buying a dozen eggs, these are sophisticated products with a broad range of features."