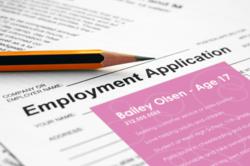 "I had been looking for a job for 3 months filling out application after application with no luck. As soon as I used Application Bling, I get a job! First application I used it on and it was the job I really wanted." Joseph Buckly, age 18
Chattanooga, TN (PRWEB) September 25, 2012
With the unemployment rate for 16-22 year olds at an all-time high, most young job seekers would welcome a way to stand out from the crowd. But that's no easy task, particularly in the world of retail, food service and other entry-level jobs most often filled by young people--positions where a standard job application is the candidate's only way of providing information about themselves, their qualifications and life experiences. That, says Angie Burton, is why she created ApplicationBling.com, with free downloadable "Bling" decals designed to help young job seekers put their own special touch on job applications—and stand out from the pile.
"I got the idea when my daughter was looking for her first job" says Ms. Burton, a mother of two and long-time advertising and print producer. Despite being an A-student with an outgoing personality, she wasn't getting interviews. And Ms. Burton thought she knew why.
"It's not like an adult applying for a professional position, where we have cover letters and resumes to help tell our stories," Ms. Burton says. "For kids just starting out, they usually fill out a job application and that's it. I felt that she was getting overlooked… that her school achievements, community service and other attributes weren't being noticed. So I started looking for a way to help her stand out."
Ms. Burton's idea was to "bling" her daughter's application with a small, brightly colored decal on her next job application. Using a simple layout with a decorative font and just a few bullet points, she listed highlights of her daughter's goal plus academic career, including awards, accolades, and community service experience, along with one or two "fun facts" about her. Next, Ms. Burton had a handful of these "bling" decals printed on neon-bright decal paper with removable adhesive so they wouldn't damage the paper beneath.
As it turns out, Ms. Burton really only needed one copy. Her daughter was offered the very next job for which she applied. And Ms. Burton knew she was onto something.
"The cashier who took her application said she saw the Bling and took it straight to the store manager," Ms. Burton says. "Word spread among her friends, and soon I was making ApplicationBling for them, too. And every single one of them got a job. It was like they had a secret weapon."
Shortly after, Ms. Burton had launched her website, ApplicationBling.com, to make that secret weapon available for other young job seekers. Now, she offers the template for free. Once downloaded, each cling is fully customizable; in fact the site includes writing tips as well as dozens of sample phrases to help inspire ideas. Then, the user simply prints the clings on readily-available 3-1/3" x 4" label paper. (Ms. Burton recommends Post-It brand labels, which are available in a variety of bright neon colors through an Amazon.com link on her site.)
Since launching ApplicationBling.com, Ms. Burton says the positive feedback and success stories from "Bling" users has, in turn, inspired her to broaden the focus of her website.
"I'm always hearing from people who use Application Bling, and it's always positive," she says. "In fact, I've never heard from anyone who didn't get a job, or at least an interview. And not only that, I also started hearing from people who were using them in interesting ways, like putting them on college applications, or on follow-up letters, or using them to promote a babysitting service. I realized that I'm not the only one with ideas to share. That's when I decided to re-design the site and provide more informational content."
Ms. Burton says her vision for the re-designed ApplicationBling.com site, which launched earlier this month, is to become a one-stop resource and community for young job seekers, their parents, and anyone else interested in helping launch new employees into the workforce. So, in addition to offering free "Bling" templates and job tips, the new site will also include articles, message boards and advice for teens and young adults on other everyday challenges they face. Information that Ms. Burton, a self-described "mom on a mission", believes our society needs now more than ever.
"As a parent, I want my kids to have a work ethic, a sense of pride, and to know the value of a dollar," she says. "And now, after hearing from other parents and kids alike, I know I'm not the only one. I think today's young people want to learn to make their own way, and that parents want to help. And now, with the right information and tools, they can."
About Application Bling
Application Bling is a colorful cling applied to a job application that highlights a job seeker's goal, best qualities, and achievements. Much like a cover letter enhances a resume; Application Bling complements a job application and gets it noticed fast. Created in 2011 by a wife and working mom of 2 teens, Angie Burton is passionate about young adults establishing a strong work ethic.